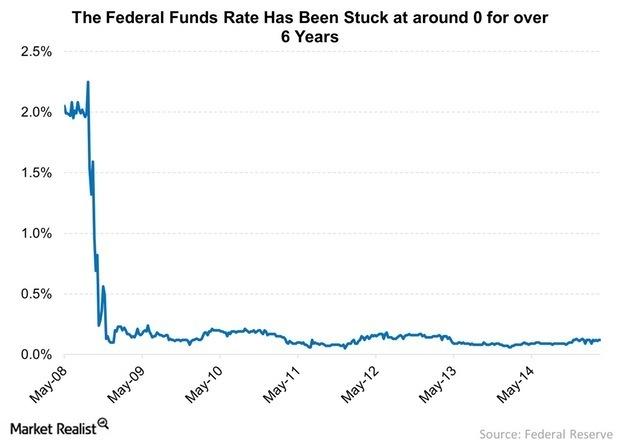 Analyzing How a Rate Hike Might Affect Your Investments
By Russ Koesterich, CFA

Jun. 8 2015, Published 10:02 a.m. ET
A look back at the Federal Reserve's past tightening cycles helps shed light on the possible impact of the upcoming interest rate hike on US stocks.
The Fed is on course for raising interest rates. True, that leaves the question of when (most likely in September, but could be later) and how much (it should be a measured affair), but a big focus for investors now is: what will be the impact on equities?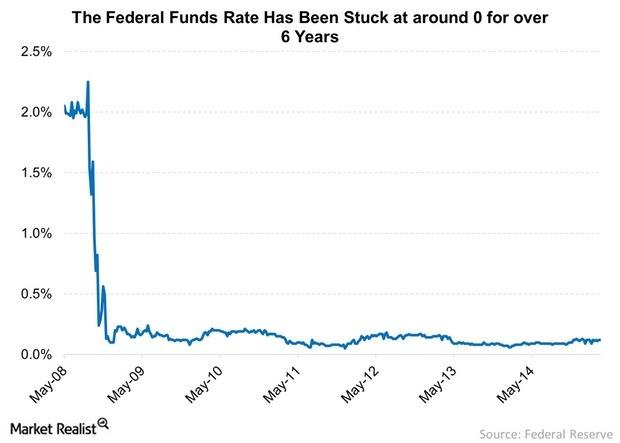 Article continues below advertisement
Market Realist – A rate hike might affect your investments in Treasuries and gold.
The federal funds rate is a tool that the Fed uses to control the economy's interest rate. The actual interest rate depends on the market mechanism. The rate has been rooted to the zero mark for close to seven years, as the graph above shows. The federal funds rate will likely rise in the back end of the year. However, the increase could be gradual. Let's delve into how a higher federal funds rate could affect your investments.
The short end of the yield curve (SHY) will be adversely affected by the rate hike. Remember, the federal funds rate is a short-term interest rate. As a result, it directly impacts the shorter-tenured bonds.
While the long-dated Treasuries (TLT) (IEF) have much higher interest rate risk, there are a couple of factors that could keep long-dated Treasury yields at bay. First, the reduced Treasury issuance is causing a dip in the supply of long-dated Treasuries. Second, QE (quantitative easing) in Europe and Asia is creating demand for long-tenured Treasuries. This means that a hike in the federal funds rate wouldn't affect the longer side of the yield curve much, while Treasuries with shorter maturities will see a spike in yields. This will cause the yield curve to flatten.
This would mean higher interest rates with low inflation. In other words, a higher real interest rate would make gold (GLD) (IAU) an unattractive investment.
We'll discuss the implications of higher interest rates on stocks in the rest of the series.