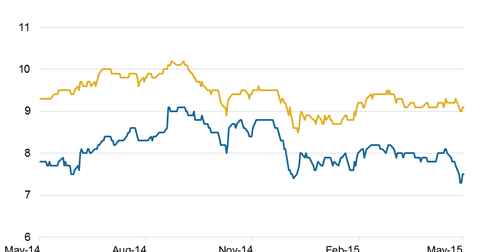 Prospect Capital Stock: High Dividend Yields, Oversold Valuations
By Robert Karr

Updated
Increasing dividends
As of June 5, Prospect Capital's (PSEC) stock will have declined by ~14% over the past six months. Nevertheless, the company generated $0.28 in dividends per share in 1Q15.
It's ~13% dividend yield is the highest of its investment management peers. Here's how some of these companies' dividend yields compare:
Apollo Investment (AINV) – 10.4%
Ares Capital (ARCC) – 9.6%
BlackRock Capital Investment (BKCC) – 9.8%
Together, these companies form 5.87% of the PowerShares Global Listed Private Equity Portfolio (PSP).
Prospect Capital's recent stock troubles are mainly due to declining yields on senior subordinated debt offerings to middle-market entities. But first-quarter results show that Prospect Capital's annualized performance yield has increased by ten basis points to 12.4%, reflecting a consolidation.
Article continues below advertisement
Discounted valuations
Prospect Capital is currently trading at 7x on a one-year forward earnings basis. Its peers are trading at 8.8x.
Historically, the company has traded at a discount to its peers because of its exposure to debt funds. The market tends to give a higher premium to investment management companies that invest in equities and that have highly leveraged balance sheets.
The company has increased its leverage significantly in the past few quarters. With a debt-to-equity ratio of 79%, debt with long-term maturity could significantly enhance value for investors.
Over the past few years, yields on debt investments have declined due to quantitative easing, first in the United States and currently, in Europe.
Prospect Capital stock appears to be oversold with its current price-to-earnings ratio at 8.5x and a 30% discount off its 52-week high. Now that yields are stabilizing, the company is tapping customers for more originations and higher dividend yields. Over the longer term, the stock could give a higher return.