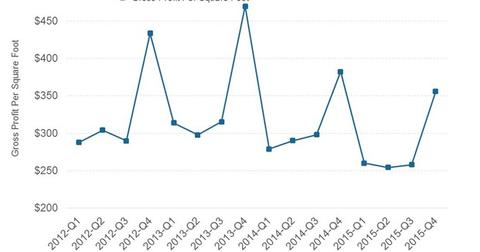 Is Pricing a Key Market Share Differentiator in Sportswear?
By Phalguni Soni

Updated
Analyzing Nike and Lululemon's competitive strengths in retail (XRT)
As mentioned earlier in this series, Nike (NKE) and Lululemon Athletica (LULU) recently opened new stores in London. Both brands cater to a more premium market, which their Chelsea locations on King's Road reflect.
LULU currently has two sportswear stores in London, with its flagship store at trendy Covent Garden. It also has more stores on the way in London and in other European cities. It's planning to launch 20 stores in Europe by 2017.
LULU's cashing in on a craze for "athleisurewear," with compelling designs that cater to a high-income demographic. LULU's designs are more versatile. The average workout bottom would typically retail at 80 to 110 British pounds at LULU.
Though Nike's apparel costs a premium, it has more pricing power in footwear than in apparel. For more on this topic, read Why Nike Is Able To Sell More Products At Higher Prices.
Article continues below advertisement
Inventory
LULU doesn't hold many sales, by the way. Few pieces of merchandise are marked down. Their strategy has always consisted of keeping inventory lean and customers keen. It isn't uncommon for particular products to sell out within days of hitting stores. LULU's global sales per square foot are among the highest in the industry as a result.
LULU was ranked number five in the top 15 list compiled by eMarketer,[1. Trailing twelve months through May 2014] which ranked retailers according to sales per square foot. LULU was preceded by Apple (AAPL) in the top spot, followed in descending order by Murphy USA (MUSA), Tiffany & Co. (TIF), and Michael Kors (KORS).
Premium brand Nike is familiar with the same inventory strategy. It has applied it with considerable success in footwear, particularly its marquee footwear models.
Competitors
Other athleisure and sportswear brands available in the market include those from Nike's global rival, the number two sportswear brand in the world, Adidas (ADDYY). Adidas also has a number of store variants, including the Adidas Originals flagship store in Foubert's Place, London, which opened last year, not far from Niketown.
Local brands like Sweaty Betty are also making an impact. While Adidas's pricing is more in line with Nike's, Sweaty Betty and other US firms with a presence in London, including PINK from L Brands (LB) and Under Armour (UA), are priced at more mid-market levels.
The Gap's (GPS) Athleta brand doesn't have a retail presence yet in London, and neither does Foot Locker's (FL) Six:02. Both are mid-market brands. Meanwhile, FL does have a considerable store network for footwear.
Nike and Under Armour together constitute 0.6% of the portfolio holdings in the SPDR S&P 500 ETF Trust (SPY).