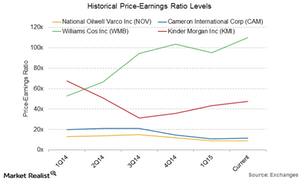 Price-to-Earnings Ratio Trends and Trades in XLE Stocks
By Stuart McKenzie

Updated
Price-to-earnings ratio trends for the best- and worst-performing stocks
In part four of this series, we illustrated how top hedge funds investing in the Energy Select Sector SPDR Fund (XLE) had adopted a bullish stance in 1Q15, when their holdings in XLE had sharply increased compared to 4Q14.
As evident from the above chart, Williams Companies (WMB) is displaying signs of relative value compared to Kinder Morgan (KMI), as the PE (or price-to-earnings) spread between these two companies within the oil and gas storage and transportation business may start to tighten. Last week saw Kinder Morgan outperform Williams Companies by more than 3%.
As oil prices began to fall in July 2014, the institutional holdings of WMB rose by ~83 million shares from its starting point in the first week of July 2014 at 579 million, rising more than 14%. Kinder Morgan shares actually more than doubled during the same timeframe.
Article continues below advertisement
The current median price estimates are $59.5 per share for KMI and $47.71 per share for WMB, which are both substantially above current prices. Although some aspects of the fundamentals look similar, WMB has higher growth perspectives with projected sales anticipated to grow at a 19% rate compared to KMI's projection of 2%. EBITDA (earnings before interest, taxes, depreciation, and amortization) growth is also anticipated to be markedly higher for WMB. National Oilwell (NOV) and Cameron International (CAM) displayed PE trends that closely followed each other.
Rise in price-to-earnings ratios
The rise in price-to-earnings ratios is indicative of investor preference towards storage during contango oil and gas markets. Although broad market valuations have been rising as well.
As evident from the above chart, the trailing 12 months (or TTM) PE ratio for the Standard & Poor's 500 Index has been rising over the past year. Comparing this trend against the subsector-specific trend in the previous graph, it can be inferred that the rise in PE figures for the chosen stocks in the energy sector is part of both a systemic trend and industry-specific relative value.
In the next part of this series, we'll analyze the performance in the oil and gas equipment and services subsegment and the oil and gas storage and transportation subsegment, broken down by market capitalization.