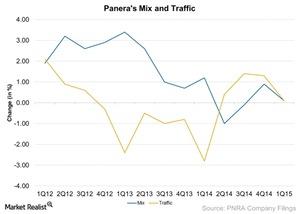 Panera Bread Mix on a Downward Trend
By Adam Jones

Jun. 26 2015, Updated 11:06 a.m. ET
Why mix dropped
Previously in the series, we learned that Panera Bread's (PNRA) mix dropped significantly over the last seven quarters. Mix can be affected by a change in strategy or a drop in traffic. In this part, we'll look at some of the reasons for this shift in mix and traffic, which are both essential to Panera's Growth.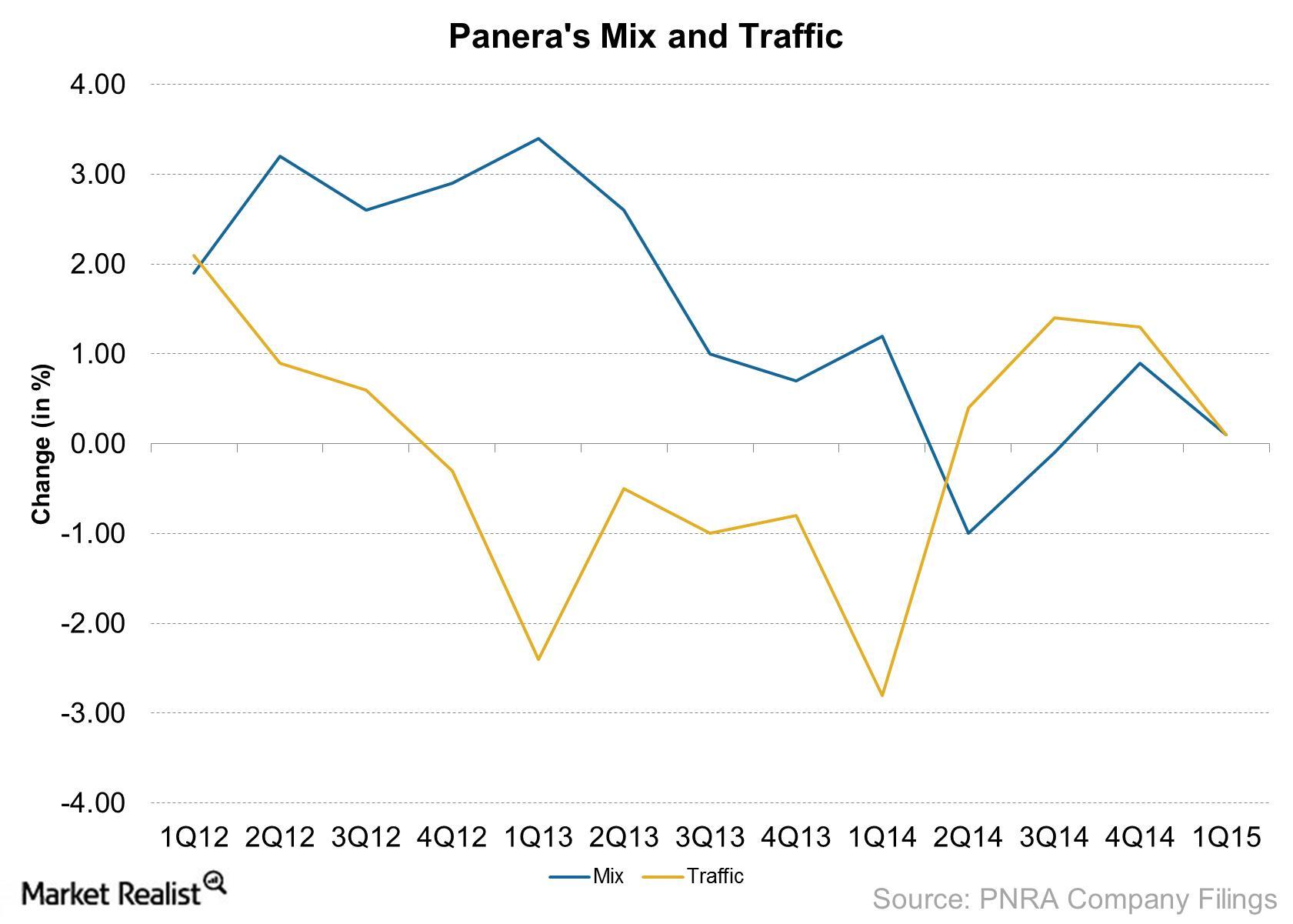 Article continues below advertisement
Why did mix and traffic drop?
According to Panera, breakfast traffic grew faster than other parts of the day during the recent quarter. Breakfast carries a lower check, which would lower the mix. Catering growth in recent quarters also decelerated. As we've seen previously, catering had a meaningful impact on the firm's mix.
Marketing missteps?
Advertising and marketing campaigns help boost traffic. Restaurants such as McDonald's (MCD) and Yum! Brands (YUM) spend a great deal on advertising each year. Panera Bread spends about 1.3% to 1.7% of its sales on marketing and advertising.
In early 2012, Panera rolled out its first national cable ad campaign, but it failed to increase traffic. In the second quarter, the company replaced its lead creative agency. Later that year, in 4Q12, the company launched its "Live Consciously, Eat Deliciously" marketing campaign, which again failed to deliver a turnaround in traffic, as you can see in the chart above.
You might consider investing in the broader Consumer Discretionary Select Sector SPDR Fund (XLY), which invests 4% of its portfolio in McDonald's (MCD), 1.5% in Yum! Brands (YUM), and 0.3% in Darden Restaurants (DRI).
Article continues below advertisement
National broadcast initiative
In 3Q13, the company launched a national broadcast initiative for 2014. In 2Q14, the company reviewed an analysis on its marketing mix prepared by third-party consultants, and went on to conclude that "the truth is that the campaign did not yield the material sequential lift in sales that we had anticipated." During the same earnings call, management said it was looking to replace its advertising agency again, which it did the following quarter.
Throughput
Throughput may be another reason for the firm's drop in traffic. During its 3Q13 earnings call, management stated that its customers had experienced "slower service, less comfort and the accuracy of orders, among other experience issues, to explain why they aren't visiting our cafes more frequently." If a customer leaves the store because of a long, slow-moving line, it's a loss for Panera.
According to the company, traffic can increase by 1% with just six customers each day. The company said, "the difference between successful or unsuccessful transaction growth at Panera, at least as we hold it, is just six to twelve customers per cafe per day."
So, to fix throughput and customer experience, Panera initiated investments in technology, resulting in Panera 2.0. We'll discuss this move in more detail in the next part of this series.