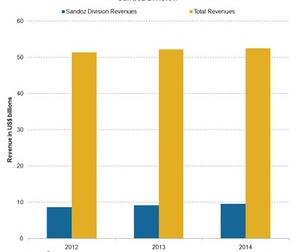 Novartis's Sandoz Division Accounts for 18% of Net Sales in 2015
By Mike Benson

Jun. 22 2016, Updated 5:32 p.m. ET
Article continues below advertisement
Sandoz division
Sandoz is the generic division of Novartis (NVS). The segment develops, manufactures, distributes, and sells prescription drugs that are not protected by patents, pharmaceuticals, and biotechnological active substances. Sandoz accounted for $9.2 billion, or 18%, of the company's net sales during 2015.
Key parameters for Sandoz division
The Sandoz division deals with generic pharmaceuticals. The division is the number two generic medicines provider worldwide and number one in differentiated generics, which are products that are difficult to develop and manufacture. The division involves the development, manufacturing, and marketing of generic pharmaceutical products, follow-on biopharmaceutical products (or biosimilars), and drug substances that are not protected by patents.
The division provides employment to ~26,400 employees. Sandoz products are sold in over 160 countries. Sandoz has 45 manufacturing sites in 19 countries. The company has organized the Sandoz division into the following subsegments:
retail generics
anti-infectives
biopharmaceuticals and oncology injectables
In retail generics, the company develops, manufactures, and markets the active ingredients and finished dosage forms of pharmaceuticals. The therapeutic areas include dermatology, respiratory and ophthalmics, cardiovascular, metabolism, central nervous system, pain, gastrointestinal, and hormonal therapies.
In anti-infectives, the company manufactures active pharmaceutical ingredients and intermediates, mainly antibiotics, for both internal use by retail generics as well as sale to third party customers.
In biopharmaceuticals, the company develops, manufactures, and markets protein or other biosimilars and provides biotechnology manufacturing services.
For oncology injectables, the company develops, manufactures, and markets cytotoxic products for the hospital market. The division launched many new products in 2015 including:
Aripiprazole Tab, the generic version of Atsuka's Abilify
Duloxetine, the generic version of Eli Lilly and Co.'s (LLY) Cymbalta
Pregabalin HGC, the generic version of Pfizer's (PFE) Lyrica
Glatopa, the generic version of Teva Pharmaceuticals' (TEVA) Copaxone 20 mg
Investors can consider ETFs like the First Trust Value Line Dividend ETF (FVD), which holds ~0.5% of its total assets in Novartis.