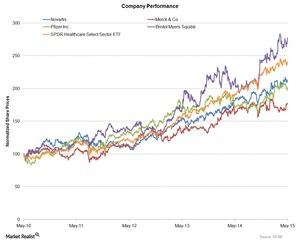 Novartis: One of the Largest Pharmaceutical Companies in the World
By Mike Benson

Jun. 22 2016, Updated 12:19 p.m. ET
Article continues below advertisement
Company overview
Novartis (NVS) is one of the largest pharmaceutical companies by revenue. Its headquarters are in Basel, Switzerland. The company specializes in research, development, manufacturing, and marketing of a broad range of healthcare products. The company deals in both prescription drugs as well as over-the-counter drugs.
Share price performance
The graph above shows the share price performance of Novartis against its peers. The company has delivered an annual return of 9.5% from June 2011 to June 2016. In the same timeframe, peers Johnson & Johnson (JNJ), Merck (MRK), and Pfizer (PFE) each delivered an annual return of 15.4%, 13.7%, and 15.4%, respectively. The annualized return for the SPDR Health Care Select Sector ETF (XLV) during the same period was 16.8%.
Article continues below advertisement
History
Novartis is a multinational group of companies. Novartis AG, the Swiss holding company, was incorporated in Switzerland in 1996.
Novartis's roots can be traced back to three companies:
Giegy, which originated around 1758
Ciba, which was founded around 1859
Sandoz, which was established in 1886
Ciba and Giegy merged in 1970, creating a new company named Ciba-Giegy, which then merged with Sandoz in 1996 to form Novartis, one of the world's largest healthcare companies.
After the formation of Novartis, the company created Syngenta through the merger of the agribusiness units of Novartis and AstraZeneca (AZN). In 2002, the company divested its food and beverage business unit to Associated British Foods. Also, Lek Pharmaceuticals, a generic pharmaceutical company, was acquired by Sandoz in 2002.
After this, many mergers, acquisitions, and divestments took place. The major ones include the acquisition of Alcon, which made Novartis the company with the widest range of eye care products. Plus, Sandoz acquired Fougera Pharmaceuticals, making the division number one in generic dermatology medicines worldwide.
In 2015, the company acquired the oncology products portfolio from GlaxoSmithKline (GSK), formed a joint venture with GSK for consumer healthcare products, and divested its vaccines business, except its influenza vaccines, to GSK.
The company has over 220 subsidiaries and ~133,400 employees in operation throughout the world. Novartis products are sold in over 180 countries, reaching over 1 billion people worldwide.