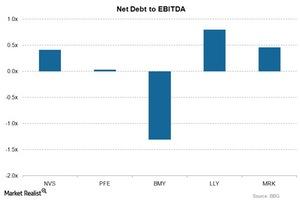 How Do Credit Rating Agencies Rank Novartis?
By Mike Benson

Jun. 22 2016, Updated 2:17 p.m. ET
Article continues below advertisement
Understanding leverage
Novartis (NVS), a Swiss-based multinational pharmaceutical giant, has operations worldwide. The company uses both equity and debt for its working capital requirements as well as investments in business.
Net-debt-to-earnings
Net debt-to-EBITDA (earnings before interest, taxes, depreciation, and amortization) is a measure of leverage. It's calculated by subtracting a company's cash or cash equivalents from its interest-bearing liabilities, and dividing that by its EBITDA. If a company has more cash than debt, the ratio can be negative.
The above chart compares Novartis's net-debt-to-EBITDA with that of other companies including Pfizer (PFE), Bristol-Myers Squibb (BMY), Eli Lily (LLY), and Merck (MRK). Bristol-Myers Squibb's cash and marketable securities are greater than its total debt, which gives it a negative net-debt-to-EBITDA.
Article continues below advertisement
Total debt to equity
Total debt to equity is a measure of financial leverage, calculated as total debt liabilities divided by shareholder equity. Novartis's total-debt-to-equity ratio is 39.1%. Peers Pfizer, Bristol-Myers Squibb, Eli Lily, and Merck have ratios of 62.2%, 46.4%, 54.1%, and 58.7%, respectively.
Credit ratings and leverage
Leverage ratios determine a company's ability to repay its debt. These also directly affect the company's credit ratings. A higher net-debt-to-EBITDA ratio suggests that the company may not be able to service its debt in an appropriate manner, which lowers its credit rating. Similarly, the company with a lower net-debt-to-EBITDA ratio can take on more debt whenever needed and gets a higher credit rating.
Credit rating agencies Fitch, S&P, and Moody's have respectively rated Novartis AA, AA-, and Aa3 for long-term debt. Lenders consider this a stable rating.
Details of debt
Novartis's total gross financial debt rose by $2 billion to $21.9 billion in 2015. The company issued three Swiss-franc-denominated bonds in the first half of 2015 and two dollar-denominated bonds in the fourth quarter of 2015. The total amount raised through bonds was $4.5 billion during 2015, which was partially offset by the maturity of dollar-denominated bonds worth $2 billion and Swiss-franc-denominated bonds worth $0.9 billion.
Novartis forms about 5.5% of the VanEck Vectors Pharmaceutical ETF (PPH).