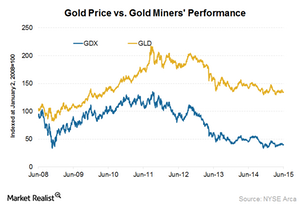 How Are North American Gold Miners Currently Placed?
By Anuradha Garg

Updated
Performance: Gold versus gold miners
Gold stocks have underperformed most of the broad market indices and gold itself. Gold prices, as tracked by the SPDR Gold Trust (GLD), have significantly outperformed the VanEck Vectors Gold Miners Index (GDX) since 2008.
During the 12-year gold bull run from 2001 to 2012, the cost of building and operating mines increased considerably for gold miners. Debt levels among miners also soared as they headed for multi-billion-dollar acquisitions. Most of those acquisitions have since been written down.
Article continues below advertisement
Gold stocks are a levered play on gold
One of the most dominant reasons for divergence between gold miners and gold is gold miners' operating leverages. Gold miners' profits will fall faster and rise higher than gold prices because gold miners have fixed costs. The cost to mine gold is usually similar under various gold price levels. As such, when gold prices rise, gold miners have the potential to provide much higher returns. Operating leverage works the other way, too.
There are reasons why gold stock prices recently lagged behind gold prices.
increasing cash cost – The quality of mines is deteriorating, and more and more tons need to be turned out in order to get the same amount of gold as a few years ago. This has pressured labor, energy, and equipment costs.
increasing capex (capital expenditures) needs – As mines deplete, companies have to put additional capital and exploration budgets in place in order to replace old, depleted mines.
There are other company-specific factors like management quality, investment decisions, and geographical risks. These also contribute to gold miners' performances diverging from gold prices. Gold miners are not a good substitute for physical gold from an asset allocation perspective. So investors who are looking for an inflation hedge to preserve wealth and diversify their portfolios usually go for gold rather than gold miners.
What we'll cover in this series
In this series, we'll look at various factors that are impacting gold miners such as Barrick Gold (ABX), Newmont Mining (NEM), Goldcorp (GG), Agnico Eagle Mines (AEM), and others. Goldcorp forms the largest share of GDX's holdings at 7.0%.
We'll discuss factors such as cost profile, cost reduction progression among miners, reserves profile, focus on mergers and acquisitions, and debt standing. Finally, we'll see how it boils down to stock performance under the current gold price environment and which stocks are more levered to gold prices.