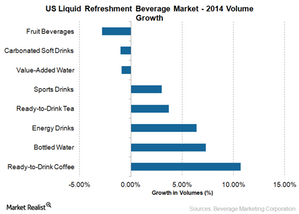 Nonalcoholic Beverage Companies Focus on New Categories
Growth categories
Nonalcoholic beverage companies like Coca-Cola (KO), PepsiCo (PEP), and Dr Pepper Snapple (DPS) are focusing on expanding their product portfolios in the non-carbonated beverage category. Non-carbonated beverages such as ready-to-drink tea and coffee, bottled water, and sports drinks have been performing better than carbonated soft drinks (or CSDs).
Article continues below advertisement
2014 volumes
In 2014, most of the non-carbonated beverage categories posted strong volume growth, although they still lag behind CSDs, which account for more than 40% of the US liquid refreshment beverage market.
According to the Beverage Marketing Corporation, ready-to-drink coffee registered a 10.7% rise in volume in 2014. Bottled water category volumes grew by 7.3%, and ready-to-drink volumes grew by 3.7% in 2014. The energy drinks category, which is dominated by Monster Beverage (MNST) and Red Bull, saw a 6.4% rise in its 2014 volumes.
New products
Nonalcoholic beverage companies are transforming their product portfolios to meet consumer preferences and to expand beyond the stagnant soda category. In 2014, CSDs accounted for less than 25% of PepsiCo's global revenues. PepsiCo recently added several new flavors under its Naked Juice and Tropicana brands. PepsiCo also launched some new flavors in the soda category, primarily Pepsi Limon and additional flavors under the AMP Energy brand. In 2014, Monster Beverage introduced Hubert's Organic Lemonade in a variety of flavors.
Coca-Cola is expanding into the premium milk market through its Fairlife brand. In the first quarter of 2015, Dr Pepper Snapple launched Snapple Straight Up Tea, a line of unsweetened tea in 18.5-ounce PET packaging. The company also launched Hawaiian Punch pouches. Coca-Cola, PepsiCo, and Dr Pepper Snapple together account for ~1.7% of the portfolio holdings of the SPDR S&P 500 ETF (SPY).
PepsiCo, which also has a strong presence in the snack food category, is developing healthier snack variants. Read the next article to learn more.