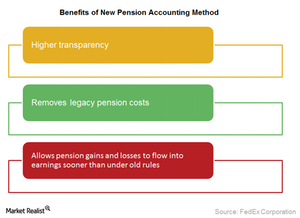 What Does the New Pension Accounting Policy Mean for FedEx?
By Ally Schmidt

Updated
Mark-to-market pension accounting
FedEx (FDX) shifted to using mark-to-market pension accounting for its pension and post-retirement plan accounts from 4Q15 onwards. The change has been made with an aim to recognize actuarial gains and losses instead of amortizing them over many years. This method of accounting is becoming the preferred method by many large companies. It provides a more accurate picture of pension plan performance.
Article continues below advertisement
Benefits of the new method
The mark-to-market approach to pension accounting is expected to provide more transparency by making the operating performance easier to understand. The method removes certain legacy pension costs from segment operating results and recognizes them in a year-end adjustment. This allows pension gains and losses to flow into earnings sooner than under the old rules that allow companies to smooth out the impact over several years. This change doesn't have any operational or cash flow impact. It doesn't affect benefits for plan participants in any way.
The company had to suffer a loss of $895 million due to a $2.2 billion—$1.4 billion, net of tax—charge for a change in the accounting of pension costs. This led to a $4.81 fall in diluted EPS (earnings per share). The annual adjustment due to the new policy will reflect theactual return on pension plan assets, changes in discount rates, and differences from other actuarial assumptions. However, the status of the balance sheet pension plans won't be affected by this amendment.
The earnings miss led to a 3.25% fall in the stock price on the day the earnings were announced. In contrast, United Parcel Service (UPS) shares rose by 0.43%. Shares of logistic provider Con-way (CNW) remained flat, while Air Transport (ATSG) shares fell by 1.26%. The SPDR S&P 500 ETF (SPY) trust rose by 0.71%.