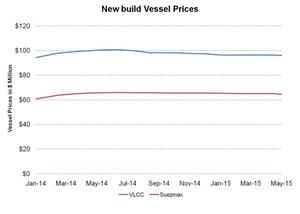 Newbuild Tanker Prices Are Flat: Is This Good for Shipping?
By Sue Goodridge

Jun. 26 2015, Published 3:46 p.m. ET
Rates are volatile but prices are not
Since January 2015, the newbuild prices of VLCCs (very large crude carriers) have fluctuated around $96 million. The newbuild Aframax and Suezmax prices are around $53 million and $65 million, respectively.
In an earlier part of this series, we learned that freight rates are highly volatile and subject to seasonality. A minimum of two to three years is needed to build a new ship. The newbuild shipping prices are much less volatile and aren't subject to seasonality. These rates give us an insight about the long-term outlook for the crude tanker industry. Rising prices send a positive signal and vice versa.
Article continues below advertisement
Prices fall in May
According to a monthly report issued by Athenian Shipbrokers, newbuild VLCC prices stood at $96.1 million in May 2015. This is $0.30 million less than April 2015 prices. The Suezmax and Aframax prices cost $64.5 million and $53 million, respectively, in May 2015. These prices are again just $0.40 million and $0.50 million, respectively, less than last month's prices.
New build tanker prices have remained weak because of lower steel prices. What's more, given that other shipping industries aren't doing well either, slack in yard use has also pushed vessel prices down.
With better prospects for the industry, companies are taking advantage of the decreased tanker prices. The newbuild vessel orderbook is on the rise.
When an industry has bright future prospects, lower vessel prices are beneficial for companies including Frontline (FRO), Nordic American Tanker (NAT), Teekay Tankers (TNK), Navios Maritime Midstream (NAP), Tsakos Energy Navigation (TNP). Lower prices are also beneficial for the Guggenheim Shipping ETF (SEA).
Prices of secondhand vessels help gauge the short- and medium-term outlook for the industry.We'll discuss this in the next part of the series.