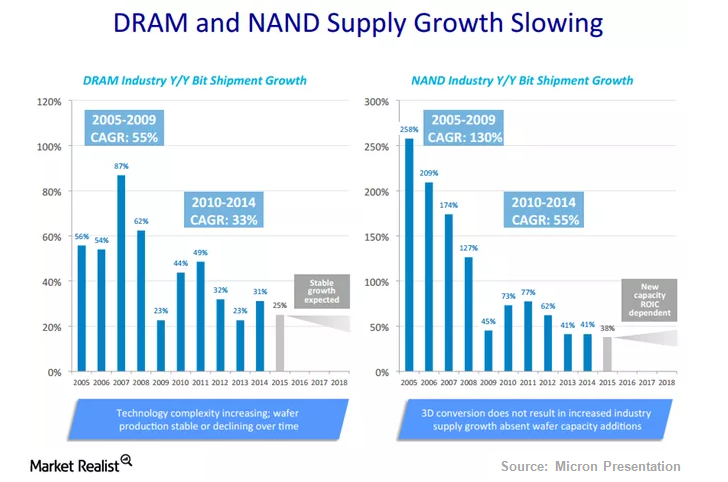 Mobile and Servers Are Expected to Drive Micron's DRAM Demand
By Anne Shields

Jul. 2 2015, Updated 9:06 a.m. ET
Micron's DRAM business sees slower growth
In fiscal 3Q15, Micron's (MU) DRAM (dynamic random-access memory) revenue declined approximately 13% on a sequential basis. This 13% decline reflects a 10% decrease in per bit ASP (average selling price) and relatively flat volumes. In fiscal 3Q15, DRAM and NAND (Not AND) accounted for 61% and 35%, respectively, of overall revenues.
Article continues below advertisement
Other segments, not PCs, are expected to drive DRAM growth
Approximately 30% of Micron's DRAM business is currently focused on PCs (personal computers). About 25% is focused on mobile applications and 20% on servers. The remaining DRAM business is in automotive, networking, and industrial applications. Servers include cloud data center and enterprise servers.
Although Micron supplies DRAM products to traditional server vendors as well as cloud infrastructure equipment vendors, the company would benefit from a broad market shift from traditional to cloud platforms.
Considering the weakness in the PC market, Micron has strategically apportioned less production toward PCs and more toward mobile and cloud servers, the rapidly growing segments. In its earnings release, Micron management stated that mobile's growth rate from a segment demand viewpoint is up 50%, while PC bit demand is up 5%.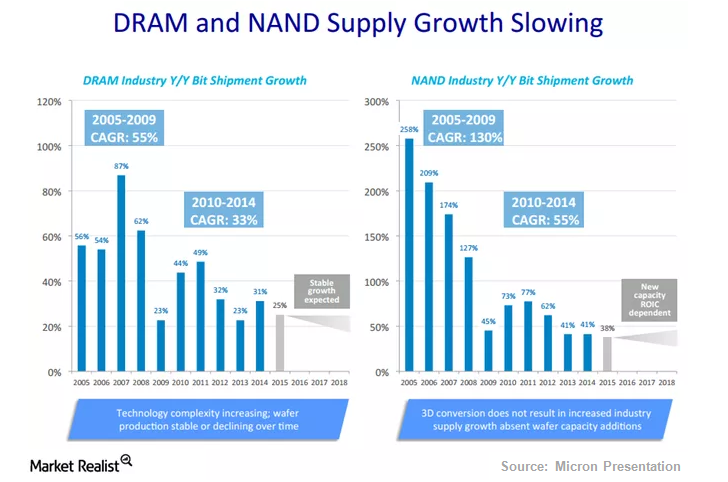 In 2013, DRAM prices exhibited some stability when companies began to produce fewer DRAMs for PCs and more for tablets, mobiles, and servers. However, consolidation, increased competition, and excess supply have again put pressure on DRAM prices.
Article continues below advertisement
According to Sundeep Bajikar, a Jefferies analyst, the PC market constitutes 30% of Micron's DRAM memory chip operations. So in spite of the sluggishness that's expected to continue in the PC market, the remaining DRAM space consists of mobile and server. Ruben Roy, a Piper Jaffray analyst, expects a decline in DRAM prices to continue. However, he's hopeful about the stability and improvement in the mobile and server DRAM market.
Regarding Micron's DRAM business, Gartner stated, "Micron's DRAM business slightly underperformed the overall DRAM market as the company converted Fab 7 (formerly Tech Semiconductor) from DRAM to NAND in order to rebalance the portfolio following the Elpida acquisition. This conversion improved the overall DRAM supply-and-demand balance, although it resulted in slower bit growth year over year. In 2014, DRAM accounted for just under 70% of Micron's revenue, and NAND flash accounted for slightly under 30%."
End markets and customers
Mobile computing, PC, and server markets contributed 30%, 40%, and 15%, respectively, to DRAM business in fiscal 2014. Its key customers include Intel (INTC) and Hewlett-Packard (HPQ). Each of them contributed 10% toward Micron's overall revenues.
If you're bullish about Micron, you can invest in the PowerShares QQQ ETF (QQQ) and the Technology Select Sector SPDR (XLK). QQQ and XLK invest about 0.59% and 0.77%, respectively, in Micron.