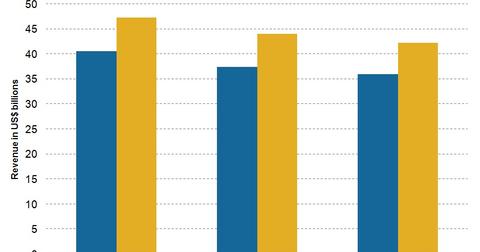 Merck & Co.'s Pharmaceuticals Division
By Mike Benson

Updated
Pharmaceuticals segment
The Pharmaceuticals segment of Merck & Co. (MRK) deals in prescription drugs across various therapeutic areas. During 2014, this segment contributed nearly 85% of the company's total revenues.
Article continues below advertisement
Key parameters of the Pharmaceuticals segment
The Pharmaceuticals segment deals with medicines and prescription drugs. This segment's focus includes research, development, manufacturing, distribution, and the sale of prescription products. The company's franchises include:
primary care and women's health: includes cardiovascular, diabetes, general medicine, and women's health
hospital and specialty: includes hepatitis, HIV, acute care, and immunology
oncology
others: including respiratory, hypertension, and osteoporosis
vaccines
Merck has 31 manufacturing sites across the globe, while it operates in more than 140 countries worldwide.
The top-performing pharmaceutical products in 2014 include Januvia, Zetia, Remicade, and Janumet. All these products had revenues over $2 billion each for 2014. Januvia, the company's largest revenue product, had revenues of nearly $3.9 billion in 2014. Januvia and Janumet contains sitagliptin, used to treat type 2 diabetes. Zetia, an exetimibe, is a cholesterol-modifying medicine used for cardiovascular diseases, while Remicade contains infliximab, used to treat of chronic inflammatory diseases like rheumatoid arthritis.
Merck entered into an agreement for the distribution rights of Remicade after an arbitration proceeding in April 2011. Since July 2011, Merck has held distribution rights for Europe, Russia, and Turkey, while Johnson & Johnson (JNJ) holds the rights for North America, Middle East, Africa, Central Asia, Latin America, and Asia–Pacific. Remicade is among the top ten drugs by revenue for Johnson & Johnson as well.