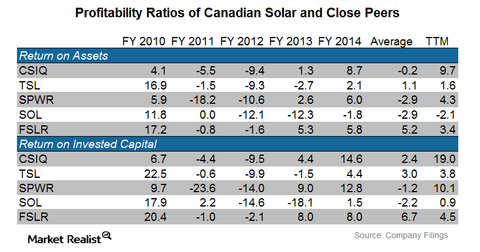 Measuring Profitability: Canadian Solar Outshines Peers
By Saania Malik

Updated
Comparing profitability to industry peers
To measure Canadian Solar's (CSIQ) operating profitability, we took a look at its earnings before interest, tax, depreciation and amortization, or EBITDA. This number indicates how efficiently the company operates and how much revenue is left over after paying major operating expenses. We also measured the company's operating performance through profitability ratios, which we discuss below.
Article continues below advertisement
Operating profitability
Solar companies have seen industry-wide volatility in revenues. Canadian Solar, as well as close competitors Trina Solar (TSL) and SunPower (SPWR), saw a fall in EBITDA from 2010 to 2011 and from 2011 to 2012. Canadian Solar's EBITDA fell 79% from 2010 to 2011 and 346% the next year. EBITDA increased 386% in 2013 and 147% in 2014. The largest proportion of operating expenses that led to weak operating results was the cost of revenues. This number made up over 90% of revenues in 2011 and 2012, whereas it decreased to 83% and 80% in 2013 and 2014, respectively.
Cost of revenues is typically the largest proportion of operating expenses for the industry. For Canadian Solar, this cost item includes large expenses such as the cost of raw materials in producing photovoltaic modules, production labor costs, and the cost of developing solar projects. The ability to control these costs, for example through long-term contracts with suppliers, will be significant in determining the company's operating profitability.
Article continues below advertisement
Profitability ratios
A return on assets indicates how efficiently a company uses its assets to generate earnings. The return on invested capital indicates how efficiently capital is allocated to profitable investments. Looking at these profitability measures, you can see that Canadian Solar and its close peers saw values in the negative region. But most stocks have recovered. Compared to selected peers, Canadian Solar has attained much higher performance.
Looking at the interest coverage ratio, you see that the company outperforms close peers with a ratio of 9.14. Whereas peers like Trina Solar and SunPower have respective interest coverage ratios of 2.69 and 0.22, Canadian Solar is in a much better position to pay off interest on outstanding debt. This advantage is especially significant since Canadian Solar and these two peers have similar trailing-12-month debt-to-equity ratios of 0.37, 0.32, and 0.33, respectively.