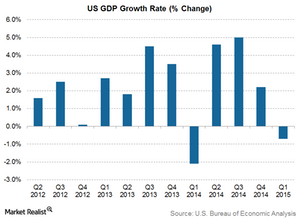 Key Demand Drivers Suggest Improving Airline Demand
By Ally Schmidt

Updated
GDP growth expected to increase
Global economic growth is a key demand driver of the airline industry. As the economy improves, corporations earn higher profits, allowing them to spend more on everything, including travel expenses. Additionally, it leads to increased disposable income for individuals, allowing them to spend more on vacations and other discretionary travel.
As the above chart shows, the airlines' return on invested capital increased in 2010, when the recent economic growth was at its peak, despite high jet fuel prices.
Article continues below advertisement
However, it's interesting to note that the airline industry itself is a major contributor to economic growth. According to the US Department of Transportation, the commercial airline industry accounted for ~5.4% of the 2012 US GDP (gross domestic product). The airline industry created 11.8 million jobs (out of 143.3 million jobs supported by the US economy), and it contributed $1.5 trillion to the country's economic activity.
As shown in the above chart, US GDP growth slowed by -0.7% in 1Q15. The economy witnessed a similar decrease in 1Q14, and it picked up in the next three quarters. For 2015, the country's GDP is expected to grow by 2.8%, which suggests improved growth in airline demand.
Increasing disposable income
According to the Bureau of Economic Analysis, real disposable income in 2015 is estimated to have improved by 2.8% in March and April after increasing by 3.6% in January and 3.4% in February. Improving disposable income suggests increased demand for air travel.
Corporate profits
Corporate profits have also shown a significant improvement, increasing by 9.2% in 1Q15, recording the maximum growth in the last four quarters. These profits improved by 2.9% in 4Q14, 5.1% in 3Q14, and 4.6% in 2Q14. Improving corporate profits reflect an improving economy. As manufacturing activity increases, companies start receiving more orders, which results in improved sales.
Let's see if the actual demand for airlines like Delta Air Lines (DAL), American Airlines (AAL), Southwest Airlines (LUV), and United Continental (UAL) increased, as these indicators suggest.
Investors who want to participate in the growth of airline companies can do so through ETFs such as the iShares Transportation Average ETF (IYT) and the SPDR S&P Transportation ETF (XTN), which hold 38% and 11% in airline stocks, respectively.