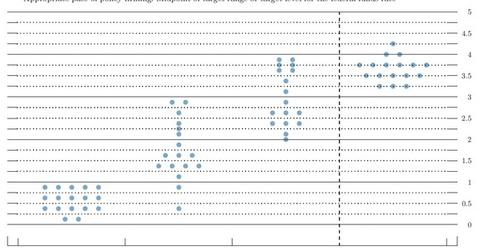 June 2015 FOMC Dot Plot Reveals Policymakers' Projections
By David Ashworth

Jun. 19 2015, Published 8:26 a.m. ET
The dot-plot
In four of its eight scheduled meetings, the FOMC (Federal Open Market Committee) releases a summary of its economic projections and FOMC members' expectations for policy rates. The chart depicting the expectations is popularly known as the "dot plot."
Market participants keenly watch for the dot plot. The FOMC's statement itself doesn't offer insight into policymakers' thinking about the target range for the federal funds rate. Since this release occurs only four times a year, it's eagerly awaited.
Article continues below advertisement
June 2015's dot plot
Along with the summary of economic projections, the dot plot was the most important part of the FOMC's June 2015 meeting. You can take a look at the graph above.
The dot plot shows that two policymakers continue to project no change in the current target range for the federal funds rate in 2015. The remaining 15 policymakers are divided equally between the 0.25–0.50% range, the 0.50–0.75% range, and the 0.75–1.00% range.
For 2016, all except two policymakers are confident that the federal funds rate will rise above 1.00%. In fact, six member are projecting the target range to be between 2% and 3% by 2016. However, the majority of FOMC members expect the rate to range between 1% and 2% in the next year.
Implications
Compared to the dot plot released in March 2015, the June 2015 plot shows that although a rate hike is on the table for this year, the target range has come down—not only for 2015 but for 2016 as well. So the Fed is expected to go slow following its first rate hike, which is still expected this year.
While equity investors (SPY)(IVV) can expect volatility, fixed income investors in ETFs like the iShares Core U.S. Aggregate Bond ETF (AGG) should brace themselves for a fall when a rate hike occurs. Investors in the PowerShares DB US Dollar Bullish ETF (UUP), on the other hand, can expect a rise. A rise in the dollar would help exporter stocks, like Colgate-Palmolive (CL), Honeywell International (HON), and IBM (IBM).
We mentioned that the FOMC also released a summary of its economic projections following its June meeting. Let's look at that summary in the next article of this series.