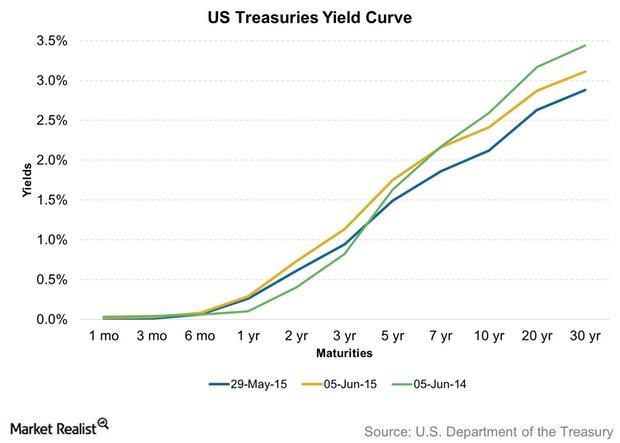 Job Reports Drive Up Treasury Yields
Secondary market
US Treasury yields moved uniformly upwards across the yield curve in the week ended June 5, 2015. Unlike the previous two weeks, the movement was very sharp last week. The five-year to 30-year maturity segment of the yield curve saw yields surging between 23 and 30 basis points. The rise was the sharpest in the five- to ten-year segment.
Yield on the benchmark ten-year Treasury note jumped 29 basis points week-over-week, ending at 2.41%. Due to the sharp rise in yields across maturities, fixed income ETFs posted negative returns week-over-week.
Article continues below advertisement
Jobs reports lead rise
Several economic indicators released last week painted a positive picture of the US economy. Manufacturing was up, according to the Institute of Supply Management, and trade deficit fell sharply. A surge in exports can help companies like Colgate Palmolive (CL) and Microsoft (MSFT).
There were a few negative indicators as well. Consumer spending was marginally down, while factory orders fell. However, these negative indicators didn't have nearly the impact that the two positive jobs reports had.
ADP's monthly employment report showed that private sector payrolls increased over 200,000 in May. Meanwhile, the broader non-farm payrolls report showed 280,000 job additions in May, the strongest showing this year. Both these reports vouched for the strength in the job market. They also provided support for a possible rate hike in 2015. Thus, they were primarily responsible for a surge in Treasury yields.
These reports, which had shown surprisingly dismal job additions in March, have now gained for two successive months, with May additions reading much stronger than the ones in April.
Article continues below advertisement
Greece defers payment
Investors continued to focus on Greece, which deferred a repayment of ~$339 million due on June 5. This led to a sell-off in European bonds and led to tremendous pressure on German bunds, the counterparts of US Treasuries. Greek equities were also battered with the ADR (American Depository Receipt) of the National Bank of Greece (NBG) ending the week down 11.6% from its weekly peak.
Earlier in the week, yields on German bunds had surged after consumer prices in the Eurozone rose for the first time since November. However, Mario Draghi, chief of the ECB (European Central Bank), said the ECB was not considering reduction of its stimulus measures.