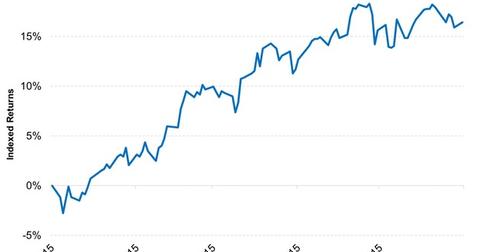 Japanese Stocks Could Continue to Outperform
By Russ Koesterich, CFA

Jun. 9 2015, Updated 1:07 p.m. ET
Stimulus success
Japan offers a similar story, with the Bank of Japan committed to 80 trillion yen/year of asset purchases. This massive program has helped to push the yen down relative to the dollar. A weaker currency, paired with a significant surge in share buybacks, has allowed for strong earnings growth. Indeed, 30% of companies listed on the first section of the Tokyo Exchange reported record profits for the year, the largest percentage since 2006. Strong earnings growth, not multiple expansion, has been the key driver of the Japanese stock market, which last week rose to its highest level since 2007. The TOPIX Index is now up roughly 17% (in yen) year-to-date.
Article continues below advertisement
Market Realist: Japanese stocks could continue to outperform, as catalysts drive markets forward
Just like Europe, Japan has benefited from an accommodative central bank policy. Easy money is one of the policies in Japanese Prime Minister Shinzo Abe's quiver—a strategy that's popularly known as Abenomics.
One of Abe's aims is to devalue the yen and make Japanese exports more attractive. Japan is an export-oriented economy. The Japanese yen recently hit a 12.5-year low against the US dollar (UUP).
The graph above shows the performance of the iShares MSCI Japan Index Fund (EWJ). The ETF has gained 16.4% since the start of the year.
Japanese equities (DXJ) are also benefiting from an increase in pension fund asset allocations to domestic equities. Japan's Government Pension Investment Fund, or GPIF—the biggest pension fund in the world—has increased its allocation to domestic equities from 12% to 25%. This could add 1.7 trillion to 3.5 trillion yen per year to the equity markets.
Because retail and institutional investors usually mimic the actions of the GPIF, this could lead to additional gains. Japanese stocks registered their longest winning streak since February 1988 on May 28, with ten consecutive sessions of advances.
Japanese stocks do look more attractive than American stocks (VOO) (VTI). Japan has clear catalysts driving the markets forward, while the US does not.