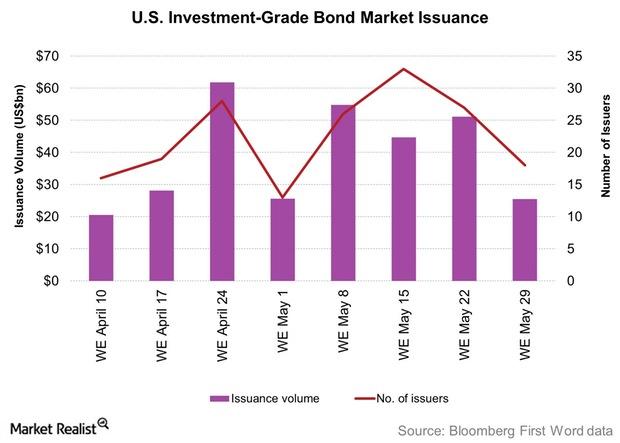 Investment-Grade Corporates Take Issuances Down a Notch
By David Ashworth

Jun. 2 2015, Updated 1:07 p.m. ET
Deals and volumes for investment-grade corporate bonds
Investment-grade corporate bonds worth $25.45 billion were issued in the primary market in the week to May 29, 2015. This was 50.2% lower than issuance worth $51.15 billion in the previous week. Last week's issuance was the lowest weekly issuance in May. Further, the number of issuers fell to 18, lower than the 27 in the previous week.
Last week, Treasury yields (SHY) fell. Investment-grade corporate bonds, which tend to follow cues from Treasuries, also saw falling yields, with the fall concentrated on the first trading day of the week. This fall in yields led to a rise in ETFs like the iShares iBoxx $ Investment Grade Corporate Bond Fund (LQD).
PNC Bank, a subsidiary of the PNC Financial Services Group (PNC), UBS Group AG (UBS), Home Depot (HD), Time Warner (TWX), and KeyBank, a group holding of KeyCorp (KEY), were the biggest issuers of investment-grade bonds in the week to May 29.
Article continues below advertisement
Issuance by quality and maturity
Fixed-rate issues formed 87.8% of all issuances last week. Looking at the credit ratings of issues, A-rated issuers were the most prolific. They made up 69.9%, or $17.8 billion, in issuance. They were followed by issuers rated BBB and AAA, which formed 15.1% and 14.9%, respectively, of the week's issuance.
In terms of maturity, the largest chunk of issuance, making up 27.9% of all issues, was in the three-year maturity category. It was followed by the five- and ten-year maturity categories, which commanded 17.9% and 15.3% of the total issuance, respectively. The >30-year maturity category did not see any issuance. Meanwhile, perpetuals saw issuance worth $2.8 billion last week, after issuance worth $500 million in the previous week.
In the next part of the series, we'll highlight the major deals, including pricing, credit rating, and yields.