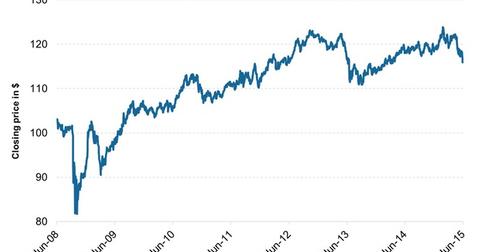 Investment-Grade Bonds' Yields Surge on Rate Hike Expectations
By David Ashworth

Updated
Jobs reports drive yields down
Investment-grade bonds' yields surged in the week ending June 5. The two jobs reports released last week were the primary drivers. The ADP National Employment Report tracks payroll additions in the private sector. The ADP report and the non-farm payrolls report both showed robust increases in May.
A robust labor market was the least of the policymakers' worries as the year started. However, for March, both reports surprised on the downside. This forced policymakers and market participants to question whether weakness was creeping into the labor market.
A surprising jobs report affects materials-related ETFs like the SPDR Materials Select Sector Fund (XLB). XLB has DuPont (DD), Monsanto (MON), and Dow Chemical (DOW) as its top three holdings. They account for ~30% of XLB.
April's jobs reports weren't very encouraging, but they weren't downbeat either. With strong reports for May, it seems like the numbers in March were just a blip.
Article continues below advertisement
A strong jobs market has a variety of implications. It bodes well for the economy in general. Companies typically start hiring when they see more business coming. When more people have jobs, it means that consumer spending—at least on staples—will likely rise soon. An increase in spending will also push inflation upwards.
A rise in inflation, combined with a strong job market, is the correct mix for the Federal Reserve to raise the short-term federal funds rate. It has been in the zero to 0.25% range since December 2008. A rise in rates may increase yields on bonds. This would hurt their prices due to the inverse relationship between the price and yield.
As a result, yields on investment-grade bonds—both Treasuries (TLT) and corporate bonds—rose last week.
Developments in Greece impact yields
Greece deferred its first pending payment on June 5. The country asked its lenders to allow it to repay its obligations in a lump sum. This negative development pushed yields on European bonds higher. If more uncertainty persists in Europe, investors may seek the safety of US investment-grade bonds.
Meanwhile, inflation in the Eurozone picked up. The ECB's (European Central Bank) chief Mario Draghi crushed all of the talk about a reduction in stimulus measures due to this uptick in inflation.
Yield movement
Corporate bond yields, as seen by the BofA Merrill Lynch US Corporate Master Effective Yield, ended the week at their weekly high of 3.32%.
Due to a surge in yields, the price of the iShares iBoxx $ Investment Grade Corporate Bond Fund (LQD) was driven down. Debt issued by companies like Verizon (VZ), Goldman Sachs (GS), and General Electric (GE) are among LQD's major holdings.
In this series we'll look at investment-grade corporate debt issuances for the week ending June 5 in detail. First, let's take a look at how yields on corporate bonds have fared, so far, in 2015.