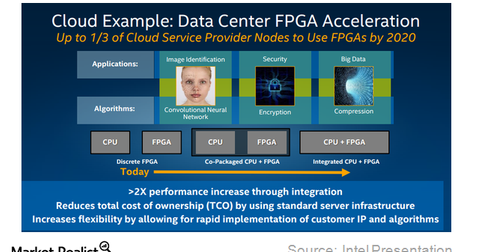 Why Intel Is So Keen on Altera's FPGA Technology
By Anne Shields

Updated
Intel seeks integration of Altera's FPGAs
With the finalization of Altera's acquisition by Intel (INTC) on June 1, 2015, Intel can now strengthen its footprint in the datacenter and IoT (Internet of Things) space.
According to the Wall Street Journal, Altera's programmable chip technology is widely believed to be the choice for Intel to retain its dominance on chips used for servers. To enhance their server speeds, companies have started using FPGAs with Intel's Xeon chips. Some analysts noted that Intel should make a move to possess its own source of this technology, allowing it to respond to this trend. Intel's acquisition allows it to utilize Altera's FPGA technology in-house.
As the below presentation by Intel shows, approximately one-third of cloud service provider servers are expected to deploy FPGAs by 2020.
Article continues below advertisement
FPGA technology
According to Diane Bryant, general manager of Intel's Data Center Group, FPGAs have the potential to speed up certain workloads by more than a factor of ten. As shown above, by putting FPGA and a Xeon processor on the same processor, users can expect an additional 2x increase in performance.
Realizing the benefits of putting FPGA and Xeon on single integrated circuit die, the next feasible step would be to integrate them into a single piece of silicon. Through Altera's acquisition, Intel aims to achieve this in the datacenter space. On June 1 at the Computex 2015 event held in Taipei, Intel CEO Brian Krzanich noted that Intel plans to "co-package" Xeon processors and Altera FPGAs in a system that should be shipped by the end of 2016.
Intel supports its users with customized Xeon products that provide networking, storage, and web server capabilities. These products boost the volume from custom SKUs (stock keeping units). Facebook (FB), eBay (EBAY), Google (GOOG), and Microsoft (MSFT) buy custom server CPUs from Intel. For example, Microsoft employs FPGAs in its servers to enhance the speed and accuracy of the search results in Bing, its search engine.
Xeon processors are included in a variety of uses, including:
servers
storage
networking infrastructure
data analytics
high-performance computing
telecommunications
cloud-based services
back-end processing for IoT
Investors who want to gain exposure to Intel can consider investing in the Technology Select Sector SPDR Fund (XLK), which holds ~3.55% of Intel.