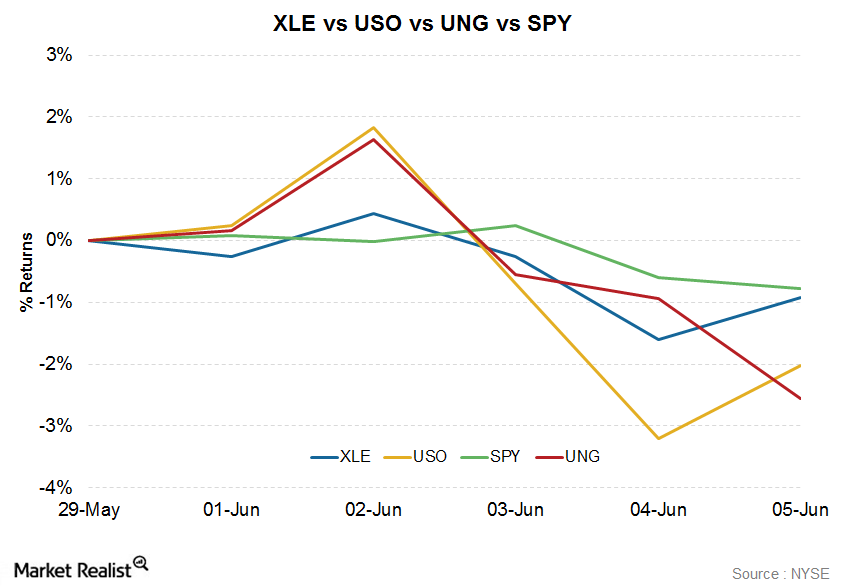 Integrated Energy Fund XLE Slides, but Commodity Funds Fare Worse
Energy Select Sector SPDR Fund 
The Energy Select Sector SPDR Fund (XLE) lost 0.92% in the week ending June 5. This ETF tracks a diverse group of ~45 of the largest American energy stocks in the S&P 500 Index (SPX).
In this series, we'll put energy-focused ETFs into perspective. We'll see how they performed week-over-week and compare them with their peers and the broader market.
Article continues below advertisement
Comparing performances
The broad-market SPDR S&P 500 ETF Trust (SPY) fell by 0.77%, slightly less than XLE did. SPY performed better than XLE because, unlike XLE, SPY isn't solely affected by the energy sector. It holds companies that belong to other sectors as well, and it reflects the health of the broader economy.
For context, the United States Oil Fund (USO) lost 2% in the week ending June 5. USO tracks price movements in prompt WTI (West Texas Intermediate) crude oil futures that are traded on the NYMEX (New York Mercantile Exchange).
The United States Natural Gas Fund (UNG) was the biggest loser among comparable securities last week. It was down ~2.6%. UNG tracks price movements in prompt Henry Hub natural gas futures that are traded on the NYMEX.
XLE wasn't as badly affected as USO and UNG because of its indirect exposure to volatile energy prices.
Check out our weekly commentary on crude oil and natural gas inventories and prices on the Energy and Power page.
About XLE
XLE has exposure to many types of energy companies with different exposures to energy prices, including these:
So, XLE provides safer, low-cost, and diversified exposure to energy prices. But investors should also note that XLE is a market-weighted index ETF. Its top five securities make up ~45% of its weight, with Exxon Mobil (XOM) and CVX alone accounting for 28%. Fortunately, XOM and CVX are themselves large integrated companies with diversified operations spanning the energy stream.