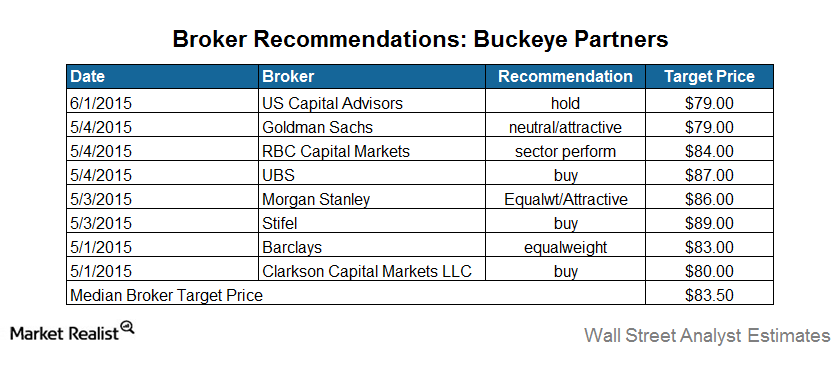 Should You Include Buckeye Partners in Your Portfolio?
Positive outlook
Buckeye Partners' (BPL) outlook looks positive from a long-term investment standpoint, considering the following positives:
stable fee-based cash flow with limited exposure to fluctuations in crude oil prices
completion of organic and inorganic projects is expected to drive distributable cash flows
positive distribution guidance
Buckeye Partners'—see Part 6 and 7 for Buckeye Partners' involvement in Buckeye Texas Partners—assets are fully supported by a seven to ten-year minimum volume commitment and storage contracts
Article continues below advertisement
Most analysts rate Buckeye Partners as "hold"
Let's check out whether our outlook on Buckeye Partners resonates with Wall Street analysts' recommendations. At a broader level, ~54% of analysts rate Buckeye Partners as "hold" and ~46% rate it as "buy." There aren't any "sell" recommendations on Buckeye Partners. This is a positive sign for the company. The median broker target price of $83.50 implies an ~5.5% price return in the next 12 months.
Here are some analysts' recent ratings:
Stifel, UBS (UBS), and Clarkson Capital Markets rate Buckeye Partners as "buy" with target prices of $89, $87, and $80, respectively.
Morgan Stanley (MS) and Barclays (BCS) rated Buckeye Partners as "equal weight" or "attractive" with target prices of $86 and $83, respectively.
Goldman Sachs (GS) is "neutral" with a pessimistic target price of $79.
US Capital Advisors rates Buckeye Partners as "hold" with a target price of $79.
Key ETFs and stocks
Investors add Buckeye Partners to their portfolio through buying its common units listed on a stock exchange or through ETFs like the Alerian MLP ETF (AMLP). Buckeye Partners accounts for ~4.9% of AMLP.
For other series on MLPs (master limited partnerships), you can refer to our Master Limited Partnerships page. We'll continue to cover more company overviews and investment analysis series.