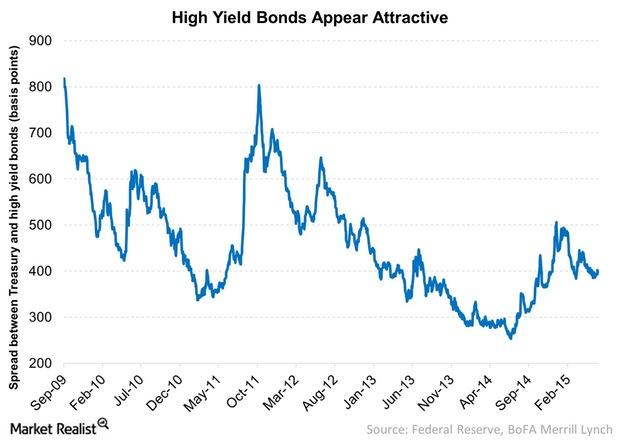 High Yield Offers Attractive Potential in a Yield-Starved World
By Russ Koesterich, CFA

Dec. 4 2020, Updated 10:42 a.m. ET
So what does this mean for investors? With rates stuck near historic lows, investors are left searching for income wherever they can find it. High yield is one segment of the bond market they could consider. In recent weeks, the spread (or difference) between the yield of the 10-year Treasury and a high yield bond of comparable maturity actually widened a bit, restoring some value in the space.
The bottom line: In an environment of generally decent (albeit recently disappointing) growth and gently rising yields, high yield offers attractive potential in a yield-starved world.
Article continues below advertisement
Market Realist – High yield offers attractive potential in today's market.
The above graph shows the spread between the Merrill Lynch High Yield Master II effective yield and the yield on the ten-year Treasury (IEF).
High yield bonds (JNK) (HYG) entail credit risk or the risk of defaulting, whereas US Treasuries don't. The difference in the yields of the two, or the spread, indicates the level of risk the market perceives high yield bonds to have.
Usually, when credit markets are deteriorating, the spread increases. Investors flee from high-yield bonds and move toward safety, leading to a dip in Treasury yields. This is because a deteriorating economy increases the chances of junk bonds defaulting. The opposite happens when the economy is improving.
The Fed's QE (quantitative easing) program led to an unprecedented dip in Treasury yields. Yield-hungry investors diverted their attention to high-yield bonds for yield. As the graph shows, the spread narrowed from ~800 basis points in November 2011 to a low of ~250 basis points in August 2014. However, the slump in oil prices led to a spike in junk bond yields.
High yield issuers in the energy sector currently make up ~15% of total high-yield bond issuers. The spread expanded to ~500 points in February 2015 as fears of default gripped investors. However, the spread has currently contracted back to ~400 basis points due to higher oil prices.
While the economy contracted in 1Q15, the credit market is not in bad shape. In fact, high yield debt issuance recently hit its highest level in five weeks. High yield seems to offer yield-thirsty investors an avenue for higher yield in a world of ultra-low yield.
Within equities, technology (IYW), financials (IYF), and health care (IYH) could see higher dividend yields soon.
Read Where Dividend Investors Are Seeking Income to know where to seek income within equities.