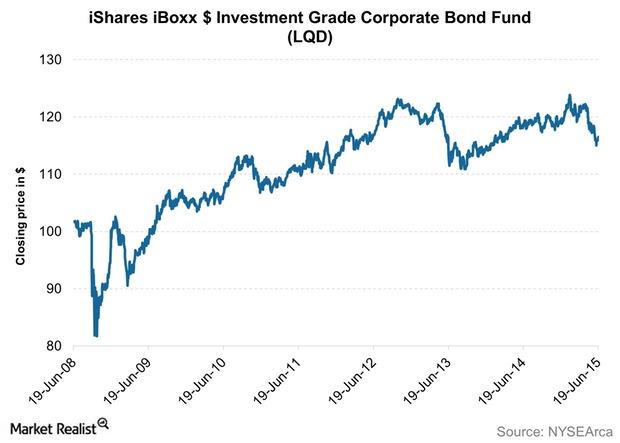 Greece Worries Lead Investors to Investment-Grade Bonds
Greece's negotiation breakdown moves yields
Yields on investment-grade bonds fell week-over-week, with developments in Greece continuing to dictate movement. Yields fell nearly throughout the week, but the sharpest fall was seen on the last trading day, as negotiations between Greece and its lenders came to a standstill.
The reason these negotiations have been making headlines is that if they don't come through, Greece may exit the Eurozone, and potentially cause a lot of volatility across financial markets.
Article continues below advertisement
The indebted nation is due to repay the IMF (International Monetary Fund) 1.6 billion euros by the end of June. It was supposed to pay this sum in four installments, but after missing the first installment on June 5, the country requested that the IMF accept all payments as a single tranche by the end of the month.
But with negotiations yielding no results so far, Greece may not be able to make the payment. This week is crucial, and an emergency meeting has been called to resolve the issue.
Due to worries about Greece exiting the Eurozone, investors sought the safety of US investment-grade bonds over riskier investments. This drove the yields on these bonds down.
FOMC statement
The FOMC (Federal Open Market Committee) released its June 2015 monetary policy statement last week. Though the tone of the statement was dovish, policymakers expressed confidence that inflation would rise again. Having laid out their expectations for the target range of the federal funds rate by the end of 2015, policymakers seem to now be looking at a September hike. As a result, the statement didn't elicit a strong reaction in either direction from investment-grade bonds, especially not from Treasuries (IEF).
Meanwhile, equities took comfort from the underlying dovish tone in the statement, with stocks like TripAdvisor (TRIP), NiSource (NI), and Harley-Davidson (HOG), rising.
Yield movement
Corporate bond yields, as seen in the BofA Merrill Lynch US Corporate Master Effective Yield, fell last week to 3.25%, their lowest level since June 2.
Due to falling yields, the price of the iShares iBoxx $ Investment Grade Corporate Bond Fund (LQD) rose week-over-week. Debt issued by companies such as Verizon (VZ), Goldman Sachs (GS), and General Electric (GE) are among major holdings of LQD.
In this series, we'll look at investment-grade corporate debt issuances for the week ended June 19 in detail. But first, let's take a look at how yields on corporate bonds have fared in 2015 so far.