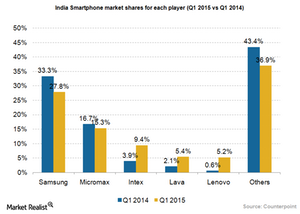 Why Didn't Google's Android One Succeed as Expected?
By Puneet Sikka

Updated
Google didn't market Android One well
Google (GOOG) launched its Android One smartphone operating system last year with high expectations. The launch especially targeted emerging markets (EEM) with a view of capturing the next billion people who don't have smartphones. The company launched Android One in India by partnering with local smartphone players Micromax, Karbonn, and Spice with the intention to introduce less-than-$100 smartphones.
Article continues below advertisement
Theoretically, this was a good move by Google, as India (EPI) is a price-sensitive market. However, practically, things didn't pan out as expected. According to a report from the Economic Times citing industry experts, Google didn't do a good job in communicating to consumers the difference between Android One and the normal Android operating system. This is especially important because you can buy a variety of Android-based smartphones at a comparable price to Android One smartphones in India.
Another mistake of Google's was to rely too much on online marketing. Internet penetration in India is still below 20%, according to Internet Live Stats. Internet penetration is even less among price-sensitive consumers in India, the group that Android One targeted. This shows that Google should have spent more marketing money offline for Android One.
Apple and Microsoft made rapid strides in the Indian smartphone market
The Indian smartphone market remains the third-largest market in the world. According to a report from Counterpoint and as the chart above shows, Samsung continues to lead this market, followed by local players such as Micromax, Intex, and Lava. Lenovo's market share increased at a rapidly because it now includes unit sales from Motorola after it acquired the brand last year.
The "Others" category is the largest category. The report mentions that within this category, Apple's (AAPL) iPhone 6 and Microsoft's (MSFT) Lumia had a great quarter. Apple is close to achieving the milestone of shipping 1 million units to India within the first six months of the iPhone 6 launch. Microsoft Lumia shipments, on the other hand, grew by a year-over-year rate of 20% in India.