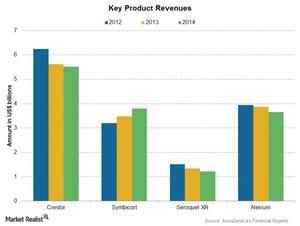 4 Products Contribute over 50% of AstraZeneca's Revenues
By Mike Benson

Updated
AstraZeneca's revenues
AstraZeneca (AZN) is the third largest prescription-based pharmaceutical company in the US, with a 5.2% market share by revenues. The company is the tenth largest prescription-based pharmaceutical company in Europe, with a 2.7% market share by revenues. AstraZeneca's key products that contribute over $1 billion in sales include Crestor, Symbicort, Seroquel XR, and Nexium.
The overall contribution to revenue for the above four biopharmaceutical products has been over 54% of total revenues in 2014, 55.6% in 2013, and 53.2% in 2012. The above chart shows specific change in the revenues of these four products over a period of three years.
Article continues below advertisement
Products at a glance
Crestor, a cardiovascular medicine, is a statin for dyslipidaemia and hypercholesterolemia. It also slows the progression of atherosclerosis and reduces the risk of first cardiovascular events. Crestor forms over 20% of revenues for AstraZeneca. Crestor is licensed from Shionogi.
Symbicort, a respiratory medicine, is a combination of an inhaled corticosteroid and a fast onset long-acting beta2 agonist used for maintenance treatment of asthma and chronic obstructive pulmonary disease, including chronic bronchitis and emphysema. The product is sold in the US and a few other markets.
Seroquel XR, a neuroscience medicine, is used for treatment of schizophrenia, bipolar disorder, major depressive disorder, and at times for generalized anxiety disorder on a limited basis.
Nexium, a gastrointestinal medicine, is a proton pump inhibitor used to treat acid-related diseases. Nexium is one of the most used therapies in the world. It is expected that the demand for Nexium will grow significantly in China, and complement its position in Japan as a top-selling medicine in its class.
Pharmaceutical companies, including Johnson & Johnson (JNJ), Pfizer (PFE), and Merck and Co. (MRK) together form over 23% of the total assets of the Health Care Select Sector SPDR ETF (XLV).