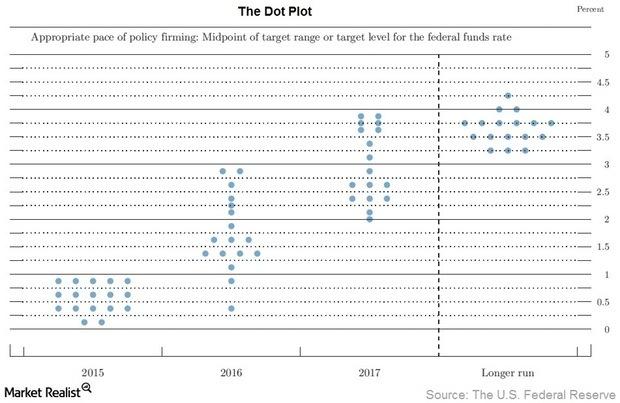 FOMC's June Meeting Moved Markets
In the United States, investors were encouraged by soothing comments from the Federal Reserve (or the Fed) on June 17. The central bankers' statement raised the assessment of both the broader economy and the labor market, and confirmed expectations for a rate hike later this year. However, investors were relieved that the Fed's forecasts suggest a shallower path of rate hikes next year and in 2017.
Article continues below advertisement
Market Realist –  The FOMC meeting moved markets again.
The scatter chart represents where each FOMC (Federal Open Market Committee) member sees the federal funds rate at different periods.
The March FOMC statement forecast for the midpoint rate at the end of 2015 was about 90 bps (basis points). In the June meeting, the weighted average forecast was much lower at ~70 bps (basis points). Both stocks (SPY)(VOO) and bonds (AGG) rallied after the meeting. The markets took comfort from the dovish nature of the statement.
However, the Fed doesn't have the liberty to wait for inflation to rise. If it does, the Fed would have to raise rates quickly, which could choke the economy.
Although the June rate hike was almost written off, the markets were closely following the Fed's statements for any clues as to when the rate hike could happen or the extent of it.
As we mentioned the last part, the markets are currently driven by what the Fed says or does. Even economic data are analysed in the light of the rate hike. For example, recent encouraging consumption figures led to a rise in Treasury (TLT)(IEF) yields, as an improving economy could lead to an early rate hike.
However, with the earnings season around the corner, the market has another driver to look forward to.