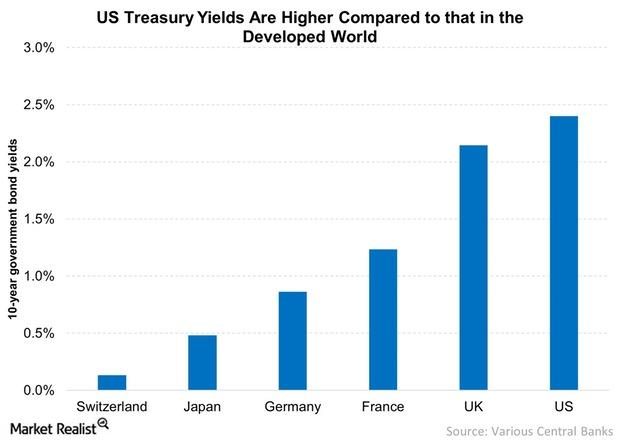 What Could Keep Treasury Yields Low?
The key takeaway for investors is that even as the Fed starts to normalize US rates later this year, markets should still be benefiting from historically low rates and aggressive monetary stimulus from most of the world's central banks. For better or worse, we're still in a world in which market returns are heavily influenced by what central banks are doing, saying and even thinking.
Article continues below advertisement
Market Realist – Low yields abroad could keep Treasury yields low.
Despite the backup in government bond yields around the world, US Treasuries (GOVT) are still looking more attractive compared to European and Japanese bonds.
The ten-year US Treasury (IEF) is currently yielding ~2.4%—compared to 0.9% of the German bund with the same maturity. The Japanese ten-year is trading at 0.5%.
A rate hike will likely keep long-dated Treasury (TLT) yields rooted due to the the global demand for Treasuries that are yielding more than developed market sovereign bond yields and the lack of supply in long-dated Treasuries.
The ECB's (European Central Bank) QE (quantitative easing) program will likely continue for another year. The Bank of Japan is also aggressively pumping funds into the economy in order to weaken the euro more. This will keep yields low in both Europe and Japan. The Japanese stock markets (EWJ) are at 18-year highs, thanks to the Bank of Japan's accommodative monetary policy.
In fact, QE in both Japan and Europe are directly affecting bond (BND) yields in the US. Low yields in those countries are making long-dated Treasuries attractive for the Japanese and the Europeans.
Read A Rare Loss for Bonds: Must-Knows for a Changing Environment to learn how the Fed's actions are leading to a convergence in the performance of bonds and stocks.