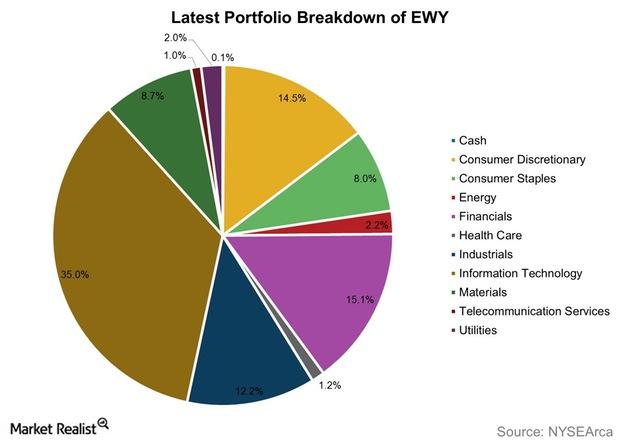 Which ETFs Give You Exposure to South Korea?
By David Ashworth

Nov. 20 2020, Updated 12:37 p.m. ET
South Korea exchange-traded funds
There are a plethora of options for investing in South Korea equities via ETFs. You can go for the Horizons Korea KOSPI 200 ETF (HKOR), the Deutsche X-trackers MSCI South Korea Hedged Equity ETF (DBKO), the WisdomTree Korea Hedged Equity ETF (DXKW), the SPDR MSCI South Korea Quality Mix ETF (QKOR), or the iShares MSCI South Korea Capped ETF (EWY). All these ETFs have over 97% of their assets invested in South Korean stocks.
Among the ETFs listed above, the one with the highest volume on US exchanges is the EWY. Let's look at that in detail.
Article continues below advertisement
The iShares MSCI South Korea Capped ETF
The iShares MSCI South Korea Capped ETF (EWY) was launched in May 2000 and has over $4.0 billion in assets under management. It does not come cheap though. The ETF's expense ratio is 0.62%, which is higher than all its peers mentioned above. However, its average volume is third among ETFs of all countries under review in this series.
The EWY tracks the MSCI Korea Index and has a much more even portfolio distribution among sectors compared with the ETFs we reviewed for Australia, Hong Kong, and Singapore.
Information technology stocks make up ~35% of the ETF's portfolio. This sector has seen its exposure go up to this level from 27% in 2010.
Following this sector is the financial sector, which makes up 15.1% of the ETF's portfolio. This is closely followed by the consumer discretionary sector, which forms 14.5% of the assets. However, in 2013, this sector formed 18.3% of the EWY.
While the telecommunication services sector has been losing its share in the portfolio, healthcare and consumer staples have been gaining over the past six years.
Performance
The EWY has returned 1.7% year-to-date in 2015. Its returns in the past three years have been far less than stellar at 8.8%, while in the past five years, it has returned 34.4%.
Among ADRs (American Depository Receipts), Korea Electric Power (KEP), KT (KT), LG Display (LPL), and SK Telecom (SKM) are the better-known ones listed on US exchanges.
Let's now look at options for investing in the electronics hardware manufacturing giant of Asia, Taiwan.