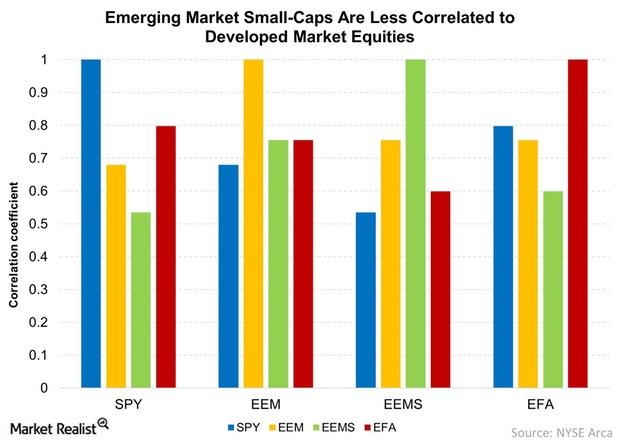 Which ETF Can Insulate You from Slowing Global Growth?
By Russ Koesterich, CFA

Nov. 20 2020, Updated 11:58 a.m. ET
First, because consumer sectors tend to be more closely tied to domestic demand than global sectors such as financials or commodities, emerging market small cap stocks should be better insulated from slowing global growth.  Take Brazil (EWZ), for example. The country's investable small cap universe offers significantly more exposure to the domestic consumer than the mid- and large cap universe; strong domestic consumption helped the country rebound from the 2008-2009 recession faster than expected.  Second, more exposure to consumer stocks means less exposure to financials (and the problems of the globally inter-linked banking system) and cyclical commodities, which are likely to remain under pressure with the weakening of the global economy.
Article continues below advertisement
Market Realist – EEM stocks are better insulated from slowing global growth.
The graph above shows the correlation of the SPDR S&P 500 ETF Trust (SPY), the iShares MSCI Emerging Market ETF (EEM), the iShares MSCI Emerging Market Small-Cap ETF (EEMS), and the iShares MSCI EAFE ETF (EFA) with one another, considering weekly returns over the past five years. EFA tracks stocks from developed markets other than the United States and Canada.
The correlation coefficient always lies between -1 and 1. A correlation of 1 means the two securities move in lockstep and are useless from a portfolio diversification point of view. A correlation of -1 means the two securities move in proportionately opposite directions, meaning the returns of one cancel out the returns of the other. A correlation of around 0 is ideal. However, within equities, you're likely to see a higher correlation.
As you can see, SPY and EFA are highly correlated, with a correlation of +0.8. The correlation between SPY and EEM is slightly less, at +0.7. However, EEMS provides even better diversification benefits. The correlation between SPY and EEMS is +0.5. The correlation between EEMS and EFA is 0.6.
As we saw in the previous part of this series, EEMS is more focused on local consumer sectors—unlike EEM, which is exposed to global sectors (ACWI). This difference reflects in the correlation figures that we discussed above.