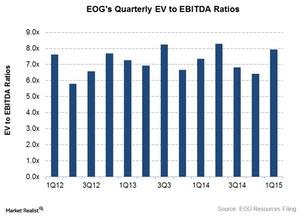 Where Is EOG Resources Trading in Terms of Historic Multiples?
By Alex Chamberlin

Updated
EOG Resources' EV/EBITDA
In the last part of this series, we looked at EOG Resources' (EOG) operating level profitability. In this part, we'll analyze EOG Resources' valuations based on its EV/EBITDA multiple. EBITDA (earnings before interest, tax, depreciation, and amortization) is an operating profitability metric similar to EBITDAX—as we discussed in the previous part. The difference between the two is primarily exploration costs. They're also excluded in the case of EBITDAX.
Article continues below advertisement
EOG Resources' enterprise value
EOG Resources' equity value has eroded in the last four quarters. Its stock fell 24% due to the fall in crude oil and natural gas prices. Its EV (enterprise value) has also fallen during the period. EOG's enterprise value stood at $53.23 billion on June 24, 2015—compared to $57.82 billion on March 31, 2014.
Is EOG undervalued?
EOG Resources' EV/EBITDA, as of June 24, 2015, is ~6.53x. This below its three-year average multiple of 7.2x. This could indicate that EOG Resources is undervalued compared to its own historical valuations. However, considering that EOG's operating earnings have been negatively impacted by the fall in energy prices in the past two quarters, the trailing valuation multiple may rise assuming its shares remain steady. Also, EOG Resources' outstanding debt rose in 1Q15. This will also push up the multiple if EOG Resources' EBIDTA remains weak.
EOG Resources' forward EV/EBITDA
In a forward looking market, the forward EV/EBITDA multiple is a better measure compared to the historical EV/EBITDA multiple. The forward EV/EBITDA uses market expectations for a company's EBITDA for the current fiscal year. EOG Resources' forward EV/EBITDA multiple is 12.2x. So, the higher multiple indicates that Wall Street expects EOG Resources' EBITDA to fall this year—compared to the last 12 months.
In comparison, upstream MLPs (master limited partnerships) like BreitBurn Energy Partners (BBEP), Vanguard Natural Resources (VNR), and Memorial Production Partners (MEMP) trade at forward EV/EBITDA multiples of 7.5x, 8.24x, and 7.7x, respectively.
EOG Resources accounts for 0.26% of the SPDR S&P 500 ETF Trust (SPY). It also accounts for 2.97% of the iShares U.S. Energy ETF (IYE). ExxonMobil (XOM) accounts for 21% of IYE.