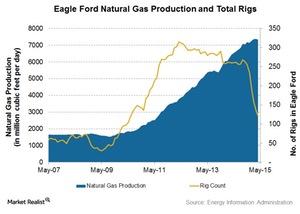 Eagle Ford Natural Gas Production Slows Month-over-Month
Eagle Ford Shale production
The EIA (U.S. Energy Information Administration) released its "Drilling Productivity Report" on June 8, 2015. The EIA estimates that gas production at the Eagle Ford Shale reached 7.3 Bcf (billion cubic feet) per day in May. That's marginally below April's production level, but 13.8% greater than production a year ago.
According to the EIA, the Eagle Ford Shale's gas production has increased by 349% in the past eight years. In May 2015, the region produced 7.33 Bcf per day compared to 1.63 Bcf per day in May 2007.
Article continues below advertisement
What it means for producers
Major oil and gas producers in the Eagle Ford Shale in South Texas include EOG Resources (EOG), Matador Resources Company (MTDR), and Pioneer Natural Resources (PXD).
PXD forms 1.37% of the iShares U.S. Energy ETF (IYE), and EOG is 0.26% of the SPDR S&P 500 ETF Trust (SPY). These companies are negatively affected when their natural gas production falls.
Production per rig
The number of rigs working at Eagle Ford decreased from 137 in April to 121 in May. A year ago, there were 260 drilling rigs in the region.
From May 2007 to May 2015, natural gas production per rig at Eagle Ford increased from 1.17 MMcf (million cubic feet) per day to 1.9 MMcf per day, an increase of 63%. In the 12 months leading up to May 2015, production per rig has increased 22%. Higher production per rig benefits natural gas producers.
That said, there's been a shift from predominantly natural gas–directed rigs to liquids-directed rigs. Natural gas rigs accounted for 40% of all Eagle Ford rigs in May 2011. Now they're down to 17%.
In the next part of this series, we'll look at natural gas liquids production at the Utica Shale.