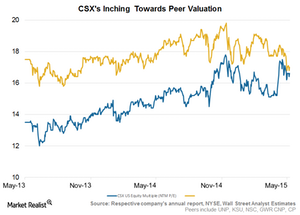 Why is CSX Getting Revalued by the Market?
Higher valuations
CSX (CSX) reported first-quarter earnings per share of $0.45, up 13% from the $0.40 reported in the same period last year. The company also generated double-digit growth in operating income, net earnings, and earnings per share. It's focused on expanding operations, increasing coverage of commodities, and expense management in order to improve its margins and operations.
Historically, the stock remained undervalued compared to its peers mainly due to pressure of declining shipments of coal. However, the spread of its valuations declined over the past few quarters. Currently, CSX is valued at 16.6x on a one-year forward earnings basis compared to its peers trading at 17x. The stock was trading at 15.4x in June 2014 compared to its peers trading at 18.6x.
Article continues below advertisement
Compared to benchmark
CSX's current PE (price-to-earning) ratio is at 18x compared to the S&P 500 at 19.1x. Overall, the company is expected to grow by 5% over the next two years. Its 2016 revenue is estimated at $13 billion, backed by an average capital expenditure of $2.5 billion per year.
CSX is expected to increase its free cash flow by 47% to $1.27 billion by 2016, backed by volume growth and expense management. The EBITDA (earnings before interest, taxes, depreciation, and amortization) margin is expected to improve by 1.5% over the same period. A faster-than-expected growth rate will help further improve its valuations. The company is delivering growth faster than the US gross domestic product on the back of increased capital expenditure.
Increased capital expenditure, expense management, and a strong buyback program can help CSX stock get valuations on par with its peers.
Together, these companies form 9.30% of the Industrial Select Sector SPDR Fund (XLI).