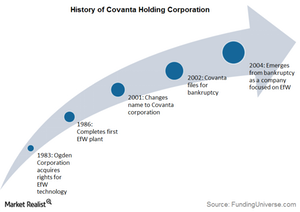 Covanta Holding: A Brief Introduction
By Mike Sonnenberg

Jun. 29 2015, Updated 3:11 p.m. ET
Why Covanta?
We've covered some interesting names in the renewable energy space, including First Solar (FSLR), the leader in thin film photovoltaic technology, and SunPower (SPWR), the leader in the distributed solar power segment. Soon we'll be publishing our overview of SunEdison (SUNE), which has a large presence in executing solar power projects.
Covanta Holding Corporation (CVA) sits comfortably between renewable energy and power with its strong position in the energy-from-waste (or EfW) segment. While there are much larger peers like Republic Services (RSG) and Waste Management (WM), their presence in direct electricity generation from waste combustion is limited. With Covanta, we continue to present our readers with overviews of interesting renewable energy and power companies. Covanta is part of the Vanguard Extended Market ETF (VXF) at 0.07% of its holdings.
Article continues below advertisement
Covanta Holding
Before turning from waste to energy, Covanta's predecessor, Ogden Corporation, was engaged in a variety of businesses, including utilities, manufacturing, entertainment, and aviation. In 1983, Ogden Corporation acquired North American rights to Martin GmBH energy-from-waste technology known as incineration. The company completed its first energy-from-waste plant in 1986 and also continued to increase its presence in the municipal waste management space.
Ogden Corporation gradually moved out of some of its businesses and changed its name to Covanta Energy in 2001 to reflect its transformation to an energy company. Exposure to the weak energy market in California weakened the company, and it filed for bankruptcy in 2002. Covanta Holding is the holding company for Covanta Energy. Danielson Holding bought Covanta's energy and water resources business in March 2004 to end the company's bankruptcy.
Since then, the company has maintained its focus on the energy-from-waste business. Before moving on to the company's business model, let's have a brief look at various business models and technologies for municipal waste treatment.