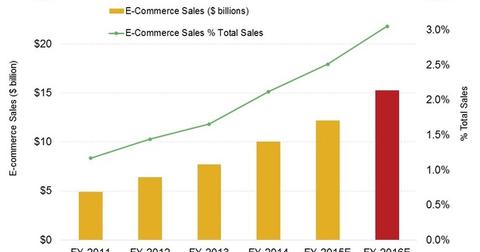 Coming Soon to Walmart: Shipping Pass to Challenge Amazon Prime
By Phalguni Soni

Updated
Walmart provides e-commerce update to investors
Walmart (WMT) held its annual general meeting on June 5. In a management update to the investor community, the company provided detailed information about its e-commerce investments and strategies.
E-commerce is one of Walmart's high-growth businesses. Web sales grew ~22% last year to $12.2 billion. That's just about 2.5% of total revenue. Walmart expects 25% growth in e-commerce sales this year.
Article continues below advertisement
The Shipping Pass program
At the investor update, Walmart revealed details about its much-anticipated free delivery program, Shipping Pass. This summer, Walmart plans to launch the membership program associated with its web business.
Shipping Pass subscribers will pay $50 a year for unlimited shipping. Delivery in three days or less is to be guaranteed. Currently, Shipping Pass is in test mode. During the rollout this summer, Walmart plans to make the program available to an invitation-only list of subscribers. A significant number of customers have already signed on.
This service is meant to challenge the online might of Amazon (AMZN), the largest e-retailer in the world. AMZN offers its unlimited shipping service, Amazon Prime, for $99 per year, with two-day delivery. Besides the shipping deal, Amazon Prime members also have access to services such as video streaming. Amazon Prime is estimated to have 41 million members in the US.[1. Consumer Intelligence Research Partners, Internet Retailer]
Article continues below advertisement
Omni-channel versus web-only sales
Shipping Pass is indicative of the strategies brick-and-mortar retailers are employing to take on their web-only rivals. This omni-channel approach may yield better results. It gives customers the choice to either shop online and have the order delivered, to shop at a store, or to shop online and pick up the order in store.
Walmart's customer fulfilment strategy must be geared to meet these various requirements, which can and do change, even with the same customer.
At the Internet Retailer Conference and Exhibition 2015, Target.com and mobile president Jason Goldberger said, "Target.com cannot beat Amazon. Target will beat Amazon." Recently, Target slashed its minimum free shipping amount to $25 in a bid to challenge Walmart and Amazon that provide free shipping for orders above $50 and $35, respectively.
WMT, AMZN, and TGT together constitute 1.8% of the portfolio holdings in the iShares Core S&P 500 ETF (IVV). The ETFs are also part of the portfolio holdings of the SPDR S&P Retail ETF (XRT). Together, they constitute ~3.1% of the portfolio holdings of XRT.