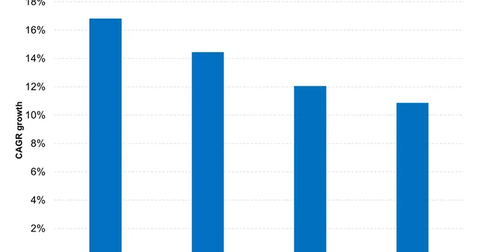 Why BRIC Markets Are Appealing for Global Technology Players
By Anne Shields

Updated
Technology players can't ignore emerging markets
As we saw earlier in this series, Russia (RSX) and China's (MCHI) governments are devising plans and laws to cull US technology players so that local suppliers get preference. In 2Q15, the disagreements between the US government and China and Russia led to issues in the two countries.
Microsoft (MSFT) Windows is considered to be a security threat in both countries due to the aggressive NSA (National Security Agency) domestic and international surveillance program in the US. Since these markets contribute significantly to the technology players' revenue growth, they can't be ignored. Previously in this series, we already discussed how global technology players like Microsoft and SAP (SAP) generate significant revenue from Russian markets.
Article continues below advertisement
Increased Internet penetration in China
According to Internet Live Stats, the Internet penetration in China is growing at a fast rate. It's estimated to be 46% in 2014. As a result, there's huge growth potential in Internet penetration in China that Netflix can tap. Bloomberg stated in June that Netflix (NFLX) is in talks with Chinese online streaming companies to bring its content to China (FXI).
Apple now derives 29% of its revenue from China. It's only behind the US. The US contributed 37% toward Apple's revenue, as the above chart shows. Emerging markets now account for more than 40% of Apple's revenue.
The above chart shows the CAGR (compound annual growth rate) for the BRIC (Brazil, Russia, India, and China) countries over the last 20 years. China (FXI) has given the best returns. The Shenzhen Composite Index grew at a CAGR of 16.8%.
Brazil's index, iBovespa, has seen a CAGR of 14.4%. Russian stocks have expanded at a CAGR of 12.1%. India's BSE Sensex has seen a CAGR of 10.8% over the same period. The growth of Brazilian (EWZ) and Russian stocks (RSX) is a result of booming commodity prices. Indian stocks (EPI) benefited from the consumption story, while Chinese exports have driven stocks in that market.
As a result, increased pressure from these government authorities on technology players puts the companies in a soft spot. Ultimately, this impacts their growth prospects.
Read Will Emerging Market Underperformance Persist? to learn more about emerging markets.