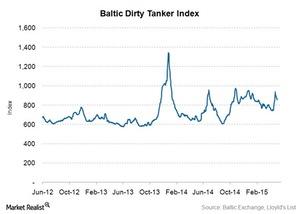 Baltic Exchange Dirty Tanker Index Records Strong Growth in 2015
By Sue Goodridge

Updated
The volatile Baltic Exchange Dirty Tanker Index
For the last year, the BDTI (Baltic Exchange Dirty Tanker Index) has fluctuated between 604 and 955. In May 2015, the index started out at 749, peaked at 938 in the middle of the month, and dropped back to 856 by the end of the month. In spite of its highly volatile nature, investors should consult this index regularly.
Article continues below advertisement
How investors should follow this index
The BDTI tracks the shipping rates for transportation of unrefined oil on representative routes. The index has shown a noticeable trend over the years. Specifically, we see the index peaking in the first and fourth quarters.
As seasonality is a known factor in these rates, shares prices aren't affected by these fluctuations. That means you can't profit by just buying stocks when the index is at a lower level and selling in the winter when the index is higher. Instead, you should look at the YoY (year-over-year) growth of this index.
Positive year-over-year growth
Except for a few days in December 2014 and in January 2015, the BDTI has shown positive YoY growth. In May 2015, the index gained 25% on a YoY basis. This is the highest gain in six months.
The positive BDTI trend hints that the crude tanker industry will benefit from the spot market rates. Companies including Frontline (FRO),Euronav (EURN), Nordic American Tanker (NAT), Teekay Tankers (TNK), Navios Maritime Midstream (NAP), Tsakos Energy Navigation (TNP), should record higher revenues with an increase in the BDTI.
The Guggenheim Shipping ETF (SEA), which tracks a basket of major shipping companies worldwide should also benefit with positive BDTI trend. Higher crude tanker demand drives shipping rates and the Baltic Exchange Dirty Tanker Index.