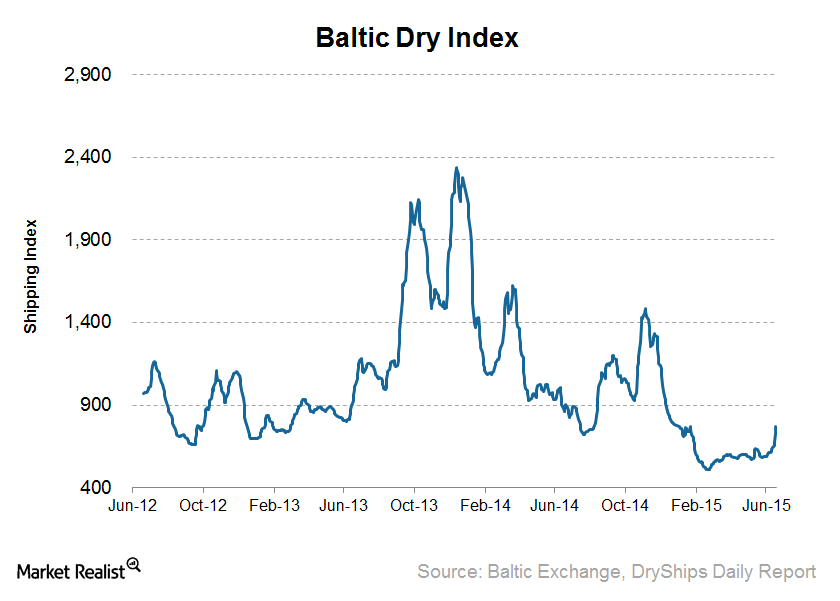 Baltic Dry Index Inches Up in June: Highest Level in 2015
Baltic Dry Index
The BDI (Baltic Dry Index) is a leading indicator for the bulk shipping industry. It tracks a number of shipping routes and the prices paid for transporting major bulk commodities. It's useful for assessing the outlook of global trade. A rising BDI is positive for the dry bulk shipping industry and vice versa.
Article continues below advertisement
Index rises to highest level in 2015
The BDI rose for nine consecutive days to reach a level of 779 on June 19. It's the highest level for 2015. For the week ending June 19, the index rose by 123 points or 19%. For most of 2015, the BDI has been below 600. The BDI reached a historic low of 509 on February 18, 2015. Since then, it has been on a downtrend—led by a slowdown in imports, mainly from China.
The recent surge in the BDI is mainly due to the uptick in grain volumes in the Atlantic. Also, the recent rally in the BDI is led by Capesize rates. It isn't advisable to get too optimistic about this move yet. It will be useful to watch out for this data over the next few days.
Impact on shipping companies
Given the oversupply and weak demand growth, the BDI will likely remain weak over a year or so. With the index retreating, dry bulk shipping companies are impacted. However, spot rates impact companies differently. While DryShips (DRYS), Scorpio Bulkers (SALT), and Safe Bulkers (SB) are impacted significantly, Navios Maritime Partners (NMM) and Diana Shipping (DSX) aren't impacted as much. Navios Maritime Partners and Diana Shipping have the majority of their spot exposure covered through fixed time charter contracts. However, rolling contracts over into a weak market does present a risk to them.
The SPDR S&P Metals and Mining ETF (XME) is also affected by the BDI. It invests in industries like steel, coal and consumable fuels, gold, precious metals and minerals, aluminum, and diversified metals and mining. The Guggenheim Shipping ETF (SEA) invests in major shipping companies around the world. Navios Maritime Partners forms 2.6% of SEA's holdings.
In addition to freight rates, vessels' purchase prices offer significant insight into the shipping industry's dynamics. We'll discuss newbuilds' prices in the next part of this series.