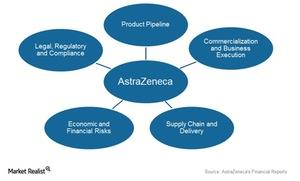 What Are AstraZeneca's Risks?
By Mike Benson

Jun. 24 2015, Updated 10:06 a.m. ET
Risks
AstraZeneca (AZN) faces the following risks in addition to other industry-specific risks in the pharmaceutical sector.
Article continues below advertisement
Product pipeline
Product development is a complex, risky, and lengthy process involving significant financial, R&D, and other resources. Each project may fail or be delayed at any stage of the process due to a number of factors. Moreover, acquisitions and strategic alliances, including licensing and collaborations, may be unsuccessful, which would have a negative impact on the pipeline.
Commercialization and business execution
Commercial success of a new medicine is crucial, particularly to replace lost sales of products following patent expiry. There is a chance that the company may not be able to achieve commercial success for any number of reasons. The success of a new pharmaceutical product involves substantial investment in sales and marketing activities. Risks include the following:
illegal trade
loss or limitations of intellectual property (or IP) rights
price controls and reductions
economic, regulatory, and political pressures
Article continues below advertisement
Supply chain and delivery
AstraZeneca may experience difficulties and delays in manufacturing its products like biologics. There is also the risk of a failure in supply from third parties at times. These possibilities increase the risk of supply chain and delivery in biologic products as well as other products involving reliance on third party goods and services.
Legal, regulatory, and compliance
The company aims for maximal compliance with all laws, rules, and regulations, as any failure to comply may result in civil or criminal legal proceedings and regulatory sanctions. These proceedings cost the company monetarily, but also affect the brand name.
Economic and financial risks
Since AstraZeneca operates in over 100 countries, the company is subjected to political, socioeconomic, and financial factors in individual countries as well as globally. The company faces the adverse impact of a sustained economic downturn. Fluctuations in foreign exchange rates and limited third party insurance coverage pose additional financial risks.
Large pharmaceutical companies, including Merck and Co (MRK), Pfizer (PFE), Eli Lily and Co. (LLY), and Gilead Sciences (GILD) also face similar risks. GILD forms about 6.1% of the total assets of the SPDR Health Care Select Sector SPDR ETF (XLV).