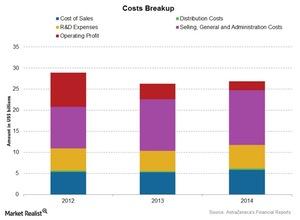 How Was AstraZeneca's Financial Performance in 2014?
By Mike Benson

Updated
Financial performance
AstraZeneca (AZN), a company with 5.2% market share in the US pharmaceuticals sector, earns a major portion of its revenues from a few drugs. Both the cardiovascular and metabolic diseases franchise and the infection, neuroscience, and gastrointestinal franchise together contribute to approximately 69% of the company's total revenues.
Article continues below advertisement
Revenues
AstraZeneca's (AZN) net revenues increased nearly 1.5% to $26.1 billion in 2014 as compared to $25.7 billion in 2013. The revenues for the cardiovascular and metabolic disease franchise increased by 11%, while the infection, neuroscience, and gastrointestinal franchise decreased by approximately 9% in 2014. For the oncology franchise, the revenues decreased by approximately 5%, while there was an increase in revenues for the respiratory, inflammation, and autoimmunity franchise by approximately 8%.
Costs
The chart above compares the costs for AstraZeneca over the past three years. Overall, the gross profit margin has been approximately 77.6% for 2014.
The cost of sales includes the materials and production costs. These costs were $5.8 billion in 2014 and $5.2 billion in 2013. The increased cost of sales had a negative impact on gross profit margin by nearly 2%.
The research and development expenses were $5.6 billion in 2014 and $4.8 billion in 2013, reflecting the company's increased spending on late-stage products in its pipeline.
The distribution costs were $324 million in 2014 and $306 million in 2013.
The selling, general, and administrative costs were $13 billion in 2014 and $12.2 billion in 2013, driven by investment in sales and marketing for the company's growth platforms. There was an increase in employee count due to the acquisition of Bristol-Myers Squibb's (BMY) share of the diabetes alliance, as well as Almirall's respiratory franchise. These acquisitions led to an increase in salary costs.
Other income was $787 million for 2014 as compared to $595 million in 2013.
Overall, the operating profit margin declined to over 8% in 2014, as compared to over 14% in 2013.
Some other large pharmaceutical companies include Johnson & Johnson (JNJ), Merck & Co. (MRK), and GlaxoSmithKline (GSK). Merck and Co. (MRK) forms about 6.4% of the total assets of the SPDR Health Care Select Sector SPDR ETF (XLV).