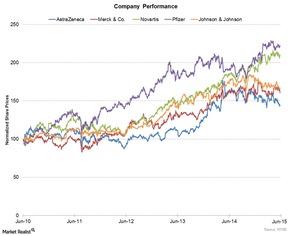 AstraZeneca: A Leader in Prescription Drugs
By Mike Benson

Jun. 18 2015, Published 10:37 a.m. ET
Company overview
Headquartered in London, AstraZeneca (AZN) is one of the largest pharmaceutical companies by revenue. The company's business is spread out over the entire lifecycle of medicine from research and development to manufacturing and supply of primary care and specialty care medicines. The company operates in more than 100 countries.
Article continues below advertisement
Share price performance
The above graph shows the share price performance of AstraZeneca against its peers. On an annualized basis, the company delivered returns of 7.5% from June 2010 to June 2015. In the same timeframe, peers like Merck and Co. (MRK), Novartis (NVS), Pfizer (PFE), and Johnson & Johnson (JNJ) each delivered an annual return of 10%, 15.8%, 17.2%, and 10.7%, respectively. The annualized return for the SPDR Health Care Select Sector ETF (XLV) during the same period was 20.1%.
History
Astra AB from Sweden and Zeneca Group from the UK merged in April 1999 to form AstraZeneca. Both companies had a science-based culture and a shared vision.
Major benefits of this merger included:
global power and reach in sales and marketing
a stronger research and development platform for innovative growth
greater financial strategic flexibility
Astra AB was founded in 1913 with headquarters in Sodertalje, Sweden. Astra was a global pharmaceutical company focused on four product groups, including gastrointestinal, cardiovascular, respiratory, and pain control. Astra also marketed a range of other pharmaceutical products, including anti-infective products and a medical devices group known as Astra Tech.
Imperial Chemical Industries demerged three of its businesses in pharmaceuticals, agrochemicals, and specialties, and formed a separate company called Zeneca in 1993. The company was focused on pharmaceuticals, agricultural chemicals, and specialty chemicals.
AstraZeneca has acquired many other companies, including Cambridge Antibody Technology in 2006, MedImmune in 2007, and Spirogen in 2013.
The company has ~57,500 employees in operations throughout the world.