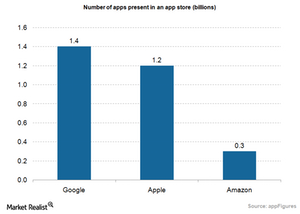 Why Apple Could Reduce its App Store Fees for Subscriptions
By Puneet Sikka

Aug. 18 2020, Updated 6:17 a.m. ET
Apple is thinking of reducing the fees that it charges to media companies
In the previous part of this series, we discussed how Apple (AAPL) is finding it tough to negotiate deals with music labels and artists for its music streaming service, Apple Music. Another compromise that Apple has been considering is to reduce the 30% fees that it charges media players for their subscription service.
According to a report from the Financial Times citing people briefed on the plans, subscription services from companies like Netflix (NFLX), Time Warner's (TWX) HBO Now, and Hulu Plus could start paying less than 30% fees to Apple if users buy subscriptions through Apple's App Store.
Article continues below advertisement
This arrangement also applies to the newly released News app, which offers news content from more than 50 publications on consumers' Apple devices. In an article titled Apple Takes a Cue from Facebook by Launching Its News App at WWDC, we discussed how publishers such as the New York Times (NYT), Walt Disney's (DIS) ESPN, CNN, and Time magazine will have to pay 30% of their revenues for ads if they use Apple's iAd platform. However, this is also set to change, according to the report.
Apple's App Store already comfortably beats Google Play in terms of monetization
Although Apple's App Store business is a fast-growing one, the company wants even faster growth. Revenues from the App Store were up 29% in fiscal 2Q15 from 2Q14. During the company's fiscal 2Q15 earnings call, Apple singled out Europe (EFA), where the App Store's success has helped the company generate $7.5 billion for European developers since 2008.
Apple's App Store also beats Google (GOOG) Play comfortably when it comes to monetization. Apple's App Store earned 70% more revenue than Google Play in 1Q15—despite Google Play having more apps than Apple's App Store. According to a report from AppFigures, and as the chart above shows, Google had about 1.4 million apps in its app store in 2014 compared to about 1.2 million apps on Apple's platform.