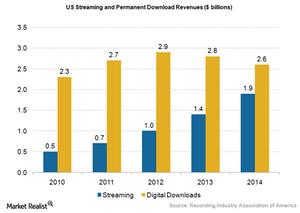 Why Antitrust Authorities Are Investigating Apple Music
Attorney general investigates the music streaming industry
It seems that Apple's (AAPL) recent launch of its Apple Music subscription service hasn't gone over well with antitrust authorities. According to a letter posted by the New York attorney general that it received from Universal Music Group, the attorney general is "conducting an investigation of the music streaming industry."
The letter also discussed the attorney general's concern that record labels and music streaming companies are colluding with each other and trying to suppress competition from free, ad-supported music streaming services. These free services are provided by companies like Spotify and Google (GOOG) through YouTube. However, Universal Music categorically denied its collusion with Apple or with other major record labels such as Sony (SNE) Music Entertainment and Warner Music Group.
Article continues below advertisement
The music streaming market has huge growth potential
These issues have arisen because each of these companies is looking to leverage the huge growth potential of the music streaming market. According to a report from the Recording Industry Association of America, the US music streaming market is growing at a much faster rate than the music downloads market. As the chart above shows, the US streaming market is approaching $2 billion in annual sales. It could overtake the music downloads market soon.
During the recent Worldwide Developers Conference, Apple launched Apple Music and the Internet radio station called Beats 1. Along with music streaming, the Internet radio market also has huge growth potential. Apple will want to do well against Pandora (P), which is the leader in this market. We discussed this concern in Apple Unveils Apple Music and Beats 1 at WWDC.
These are some of the motivations that might have led Apple to collude with record labels. However, we'll wait for the results of the investigation so we can understand the truth. To get diversified exposure to Apple, you can invest in the Technology Select Sector SPDR ETF (XLK). XLK invests ~18% of its holdings in Apple.