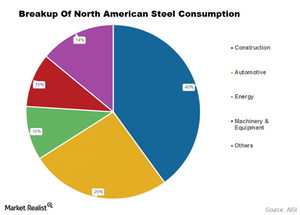 Aluminum Challenge: Steel Companies Seek a Bigger Demand Share
By Mohit Oberoi, CFA

Updated
Aluminum challenge
The automobile industry has been in the news lately. This is partially due to the stellar sales figures in May. The US (SPY) automobile industry delivered its best monthly performance in almost a decade. Sales totaled 1.64 million vehicles in May—an increase of 2% over last year.
Automobile companies are one of the biggest consumers of metal products. Steel, copper, and aluminum are widely used by automobile companies. Apart from these metals, fiber and plastics are also used to make vehicles.
Article continues below advertisement
What do we cover in this series?
In this series, we'll analyze how steel companies are placing themselves to gain a bigger share of demand from the automobile sector. While copper usage has been more or less sticky, steel and aluminum are battling it for a higher share. Currently, the automobile industry accounts for over a quarter of the steel consumption in North America. This can be seen in the above chart.
Automobile companies use steel products for body sheets, chassis, and engine parts. Aluminum has been making quick inroads into this bastion of steel companies. Earlier, the use of aluminum was largely limited to heat exchangers and some engine parts. Now, automotive companies have started producing vehicles with complete aluminum bodies.
Recent developments
In this series, we'll analyze some of the recent developments in the metals industry. ArcelorMittal (MT) and AK Steel (AKS) are the leading steel suppliers to automobile companies. In contrast, Alcoa (AA) holds the lightweighting baton. It supplies aluminum sheet products to automakers. Its aluminum was used in the production of Ford's (F) all-aluminum body F-150 pickup truck.
On June 3, ArcelorMittal hosted an automotive-focused investor event. In the next part of this series, we'll discuss the key highlights of the event.