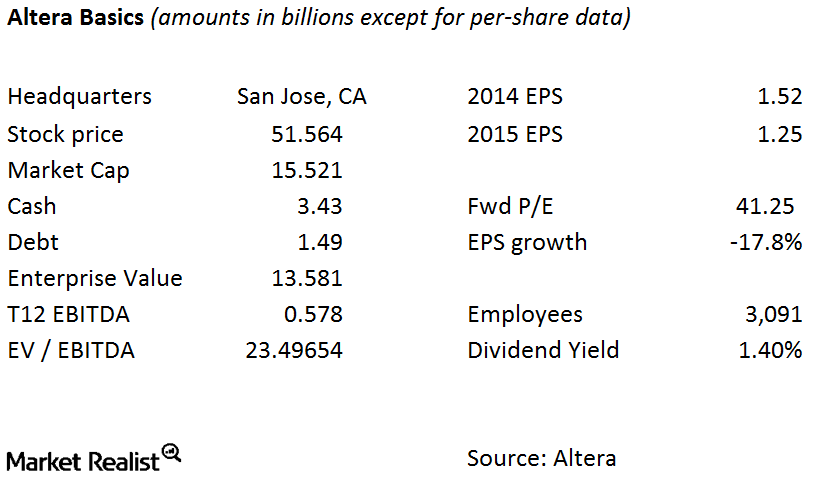 Altera Corporation: The Basics of a Complex Semiconductor Company
Altera, a global semiconductor company
Altera Corporation (ALTR) is a global semiconductor company. It designs and sells programmable logic devices (or PLDs), power system-on-chip (or SoC) devices, intellectual property cores, and proprietary development software. Altera's products are primarily in the telecom and wireless, industrial automation, military and automotive, networking, computer and storage, and other vertical markets.
Article continues below advertisement
Programmable logic devices
A programmable logic device is the next generation of integrated circuits, which a user can customize for a number of various applications. While PLDs are more expensive than the earlier application-specific integrated circuits (or ASIC) and application-specific standard products (or ASSP), they are much more flexible and powerful.
Altera produces ASICs and ASSPs, and PLDs do cannibalize their use to some extent. But there is a widening technological gap between the latest PLDs and the ASIC designs.
Field-programmable gate arrays
Field-programmable gate arrays (or FPGAs) include those referred to as SoC FPGAs that incorporate hard embedded processor cores and complex PLDs. These are standard semiconductor integrated circuits that customers program to perform desired logic and processing functions in their electronic systems.
Essentially, these devices are important in the miniaturization of electronic components. They offer faster processing speed and lower power usage. Intel (INTC) is buying Altera specifically to acquire this technology.
Altera estimated the PLD market was approximately $4.9 billion in 2014. The combined ASIC and ASSP market was approximately $50.4 billion. Altera anticipates capturing that ASIC and ASSP market with PLDs.
Article continues below advertisement
Stratix series high-end, system-level FPGAs and SoC FPGAs 
Stratix FPGAs provide high performance and low total power consumption for the high-end FPGA segment. Altera announced its Stratix 10 FPGAs and SoC FPGAs in 2013. It plans to introduce them in 2015. These chips will be built on Intel's 14 nm (nanometer) 3D Tri-Gate transistor technology. They will increase density, performance, and power efficiency.
Intellectual property cores 
IP (Internet Protocol) cores are building blocks that execute system-level functions. Incorporating more functionality and logic capacity on a programmable chip enhances the advantages of PLDs over competing solutions.
Other merger arbitrage resources