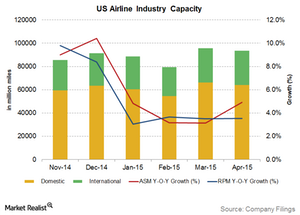 How Are Airlines Responding to Increasing Demand?
By Ally Schmidt

Updated
Airline capacity
Airline capacity is measured by available seat miles (or ASM) and is calculated as the total number of seats multiplied by the total distance traveled. ASM is the main driver for airline revenues.
Article continues below advertisement
Passenger capacity
The capacity growth for US airlines was slower than their demand growth. Domestic ASM grew by ~5% in April 2015, compared with April 2014. However, all major US airlines increased capacity significantly—in some cases, more than the demand growth. The market experienced concern that the airlines may have returned to their practice of increasing capacity because the economy improved. The NYSE Arca Airline Index lost almost 6% in May, while the S&P 500 gained ~1% during the same period.
Overcapacity, also referred to as unjustified capacity addition, comes at the cost of yields. We will discuss the impact on yields later in this series. Alaska Airlines (ALK) saw the highest capacity growth and increased its capacity by 13.67%, while Southwest Airlines (LUV) and JetBlue Airways (JBLU) increased their capacity by 6.66% and 6.64%, respectively. Delta Air Lines (DAL) increased its capacity by 4.75%, while American Airlines (AAL) and United Continental (UAL) increased their capacity by 2.4% and 2.3%, respectively.
Most of these companies are a part of the iShares Transportation Average ETF (IYT) and the SPDR S&P Transportation ETF (XTN), which hold 38% and 11% in airline stocks, respectively.
Article continues below advertisement
Capacity and stock movement
This capacity addition was a major reason for the fall in airline stocks in May 2015, as discussed earlier in this article. Market participants feared that American airlines are again on an unchecked capacity addition spree due to the rising economy, similar to the one before the Great Recession. During that time, there was so much seat addition that the airlines were forced to sell them at fire sale prices. The recession drove these airlines to cut costs and tighten their capacity.
However, according to American Airlines CEO Doug Parker, US airlines seem to have learned their lessons from the past and the capacity addition seems to be more disciplined this time.
On the global front, passenger capacity increased significantly in April 2015, and available seat kilometers grew by 6.1% year-over-year (or YOY) that month. International markets grew by 5.9%, while domestic markets grew by 6.4% YOY. This growth was largely driven by the Asia-Pacific market.
Freight capacity
In contrast to passenger capacity, freight capacity outpaced demand growth. Where air freight demand remained flat, air freight capacity increased in April 2015 in the domestic and international markets. As a result, freight load factors fell sharply that month.
All regions, except Africa, increased capacity in April, although there is no growth expected in air freight volumes in the near term. For the full year 2015, these volumes are expected to expand moderately because there has been no improvement in business confidence. Also, export orders have slowed throughout 1Q15, and they show no signs of improvement.