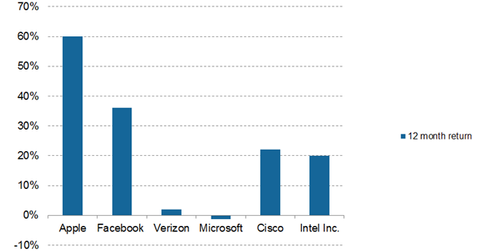 An Analysis of XLK's Subsector Performance
By Adam Rogers

Updated
XLK's subsector performance
As stated earlier, the main subsegments of XLK include the application software, computer, semiconductor, telecommunications, and IT services sectors, among others. The best-performing segments of XLK over the last year have been computers, IT services, and semi-conductors.
Article continues below advertisement
Stock returns per segment
The returns generated in the computer segment were mainly driven by Apple, which saw its stock price increase by over 60% in the last 12 months. The IT services sector gave positive returns as well, as Cisco (CSCO) generated stock returns of over 22% in the last year, even though the performance of Microsoft (MSFT) and IBM (IBM) were comparatively less favorable. The semiconductor segment generated high returns as well on the back of Intel (INTC), which has been a power house performer in the last two decades.
On the other hand, the telecommunication and application software segment performed poorly and generated negative returns. Microsoft generated returns of -1.33% in the last year, while the returns for telecommunication firms like Verizon and AT&T have been 1.91% and -6.82%, respectively.
Key drivers for growth
The key drivers for growth in the computer segments have been high demand of products in developing markets such as China and India, which have seen a YoY (year-over-year) growth of over 15% in the last five years.
For firms in the semi-conductor segment the key drivers are demand for tablets as well as desktops, in addition to increased demand in the automobile segment. The growth in the information technology segment is driven mainly by constant innovation in technology.
The next article in the series discusses the performance of various tech ETFs, as well as the top-performing stocks in different sectors.