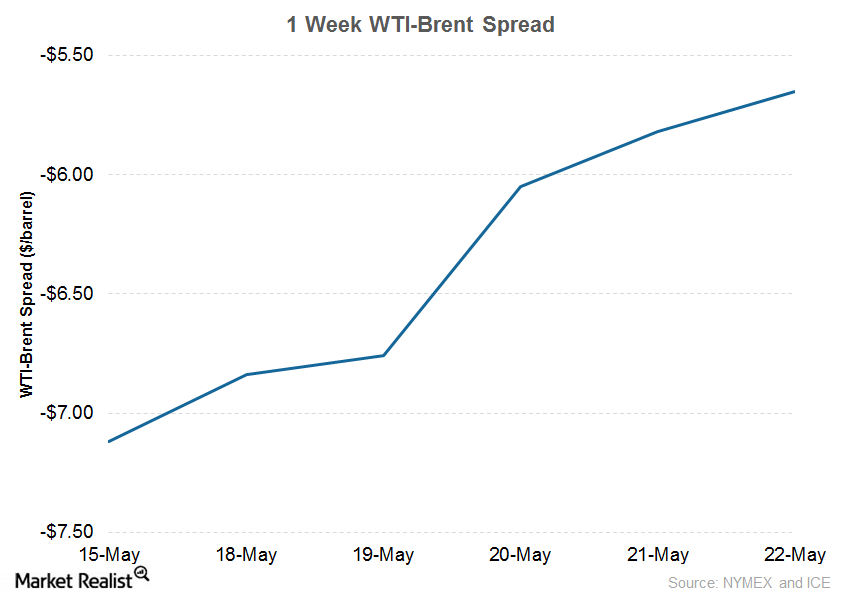 WTI and Brent Converge: Is It Good for American Energy Companies?
WTI and Brent
WTI's (West Texas Intermediate) discount to Brent narrowed last week compared to the week before. The differential as of Friday, May 22, was $5.65 per bbl (per barrel) compared to $7.12 per bbl on Friday, May 15.
Both benchmarks were weighed down by the dollar's rally. The US benchmark, however, was supported by a bullish inventory report published by the EIA (Energy Information Administration).
WTI-Brent has been volatile in the past few months. It significantly converged since February when the differential widened to ~$12 per bbl to levels near $3 per bbl in the April 17 week. It widened back to levels near $5.65 per bbl last Friday. In January, WTI and Brent were trading near parity. This shows how volatile global oil markets have been over the last few months.
Article continues below advertisement
A narrower WTI-Brent spread is positive for US oil producers such as Oasis Petroleum (OAS), Occidental Petroleum (OXY), Cimarex Energy (XEC), and Anadarko Petroleum (APC). A wider spread generally means that US producers receive less money for their crude output compared to their international counterparts.
OXY, XEC, and APC are components of the iShares Global Energy ETF (IXC) and make up ~4.4% of the fund.
On the other hand, US refiners such as Phillips 66 (PSX) benefit from a wider WTI spread. They have access to cheaper crude compared to refiners elsewhere. These companies also get international prices, benchmarked to Brent crude, for their refined products. Refined products don't have export impositions, so a wider spread enhances their profitability.